Airlink is to continue operating in its own right four of the routes being axed by its franchise partner South African Airways at the end of the month.
The business rescue practitioners appointed to lead cash-strapped SAA – after it was placed in formal restructuring in early December – announced on 6 February that the Star Alliance carrier would drop a string of flights as part of a wide-ranging streamlining of its network.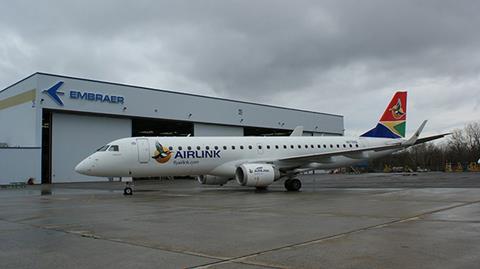 That included all its domestic flights except Johannesburg-Cape Town, regional flights from Johannesburg to Abidjan, Entebbe, Luanda and Ndola, and intercontinental services to Guangzhou, Hong Kong, Munich and Sao Paulo.
But private South African carrier Airlink – which has a franchise agreement in place with SAA – says it will continue to operate the domestic route linking Johannesburg to Port Elizabeth, as well as services to Ugandan city Entebbe, Ndola in Zambia and the Angolan capital Luanda in its own right when SAA stops its services from 29 February.
"We want to reassure travellers that as far as Airlink is concerned, it is business as usual. Our schedule and operations are unaffected by SAA's latest network cuts," says Airlink chief executive Rodger Foster.
Airlink had in January reached an amended agreement with SAA to replace their franchise agreement with a new commercial arrangement. Under the revised deal, Airlink will continue to operate flights under the SA8 code until switching to its own 4Z flight code from 11 June 2020.
At the time Airlink said that while SAA remains "an important strategic pillar in Airlink's strategy", the new arrangement gives Airlink "the freedom to extend its commercial reach, develop more routes and frequencies on an independent basis and extend or establish additional agreements with other leading international airlines".
Cirium fleets data shows Airlink has fleet of 48 aircraft, largely comprising Embraer jets. The airline carried almost 2 million passengers in 2019