Frankfurt Airport operator Fraport sees passenger numbers at Germany's biggest hub reaching the upper end of its 20-25 million forecast for the full year after a strong recovery in leisure travel during the third quarter.
Fraport says that boosted by a noticeable recovery in holiday travel during the summer season, third-quarter revenues jumped by four-fifths, to €634 million ($734 million), over the same period in 2020.
The gap in passenger numbers at Frankfurt versus pre-crisis levels was cut by 45% in the third quarter, a trend that continued in October, largely attributed to holiday travel.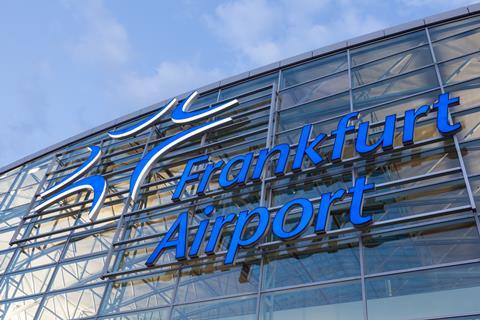 It reports a similar recovery among its other airport interests, notably tourism hotspots in Greece, and Turkey's Antalya airport. "During the summer holiday season, these gateways even reached nearly 80% of the respective passenger volume recorded in 2019 – while exceeding more than 90% of pre-crisis levels according to the preliminary October 2021 figures," Fraport says.
That strong traffic performance, together with some Covid-related compensation one-offs at its US, Greek and Slovenian subsidiaries, prompted Fraport to raise its outlook for the full year. It now expects to make a net profit for the 12-month period, having previously guided in a range between slightly negative to slightly positive.
The group posted a net profit of €103 million for the third quarter, compared with a loss of €306 million in the same period of 2020.
Fraport chief executive Stefan Schulte says: "Following the massive losses experienced in 2020 and the resulting sharp rise in debt, we are now seeing brighter prospects ahead. Demand for holiday travel during the summer months was relatively strong.
"Now, we are also expecting intercontinental traffic to gradually recover – supported by the recent re-opening of the US borders. Consequently, we are a bit more optimistic about the winter season than we were just a few months ago. Nevertheless, it is still a long way ahead until we reach pre-pandemic passenger levels again and are able to reduce our debt significantly."
Fraport's long-term traffic outlook remains unchanged. It sees its international airports reaching pre-crisis passenger levels by 2023, but Frankfurt Airport to not reach those levels until 2025 at the earliest.
Last month Paris airports operator Groupe ADP reported passenger traffic stood at 51.3% of pre-crisis levels in the third quarter at its facilities in the French capital. It kept its projections unchanged for full-year passenger numbers, at between 30-40% of pre-crisis levels across Paris Charles de Gaulle and Orly, and 40-50% for the group as a whole.
Europe's biggest hub airport prior to the pandemic, London Heathrow airport handled 6.3 million passengers during the third quarter. The UK airport has struggled amid tighter restrictions than many of its European hub rivals.
European airport hub traffic 9m 2021
Airport
Jan-Sep 2021 passengers
Source: AENA, Fraport, Groupe ADP, Heathrow Airport, Schiphol Group
Paris Charles de Gaulle
16.1m
Frankfurt
15.8m
Amsterdam Schiphol
15.8m
Madrid
14.9m
London Heathrow
10.2m