British Airways is suspending flights at London Gatwick airport as a result of the fresh national lockdown in the UK which took effect today.
The Oneworld carrier, which consolidated flights at London Heathrow airport during the first wave of the pandemic earlier this year, says it is reducing flights at Gatwick and will pause operations at the airport until early December.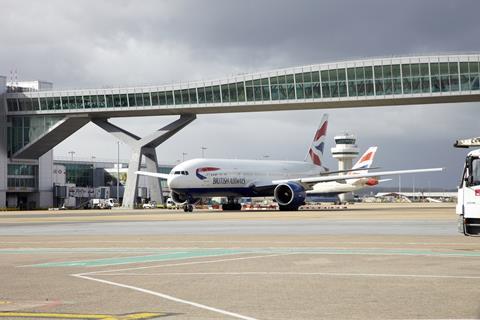 "Following the [UK] government's announcement of a new national lockdown for England [on 30 October], we have been urgently reviewing our schedule for November," BA says.
As part of new travel restrictions, international air travel from England is restricted except for in limited cases, such as those involving work or education.
"Our focus is on keeping crucial air links open – bringing home the thousands of customers currently abroad, transporting vital goods and ensuring people who are permitted to travel in and out of the UK for work, education and other reasons stipulated by the UK Government, can continue to do so," BA adds.
The introduction of fresh travel restrictions has been a further blow to the UK's hard-hit airlines.
Carrier association Airlines UK has written to UK chancellor Rishi Sunak, calling for fresh support for the industry, including the suspension of the air-passenger duty and subsidising of private Covid-19 testing.
"With the travel ban, airlines are now in effect closed businesses, and sadly in a much weaker position to face this period compared to the beginning of this crisis," the association says. "Airlines are capital-intensive operations with a high cost base beyond their employees, and were not able to meaningfully recover over the summer season.
"The next period is now even more critical, and we call once again for a comprehensive support and recovery package for aviation, to see UK airlines through the winter and ensure that there is still a UK airlines sector in place to support a UK recovery into 2021," the group says.