Indian budget carrier GoAir is tentatively eyeing 15 April and 1 May for the respective relaunch of domestic and international flights, once the country emerges from its three-week lockdown that began last month.
"Considering that the lockdown in India is from 25 March to 14 April 2020, GoAir is open for booking of domestic flights from 15 April 2020 onward. And the airline is open for booking of international flights from 1 May 2020 as of now," the airline, backed by India's centuries old Wadia Group, tells Cirium.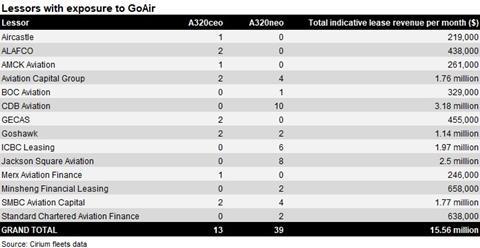 "These bookings are subject to government – Indian and foreign – approvals to fly from 15 April 2020."
Cirium fleets data shows that GoAir's entire fleet of 56 Airbus A320ceos and A320neos are now in storage. GoAir's fleet is mostly leased, with the exception of four aircraft that it owns.
CDB Aviation has the highest exposure to GoAir with 10 A320neos placed with the airline, and an indicative monthly lease rentals of $3.18 million for the 10 aircraft. Jackson Square Aviation has a similar exposure to the tune of eight A320neos. Meanwhile, the A320ceo exposure is fairly evenly distributed between eight lessors, all of whom have just one or two aircraft each.