Hawaiian Airlines says it is suspending flights to Seoul Incheon International airport in South Korea, becoming the second US carrier to stop flying to the country since the outbreak of the coronavirus, also known as COVID-19, several weeks ago.
Earlier in the day, Atlanta-based Delta Air Lines said it was suspending its Minneapolis/St. Paul to Seoul flight beginning on 29 February, and reduced to five-times weekly its flights to Seoul from Atlanta, Detroit and Seattle through 30 April. Delta's Atlanta and Detroit routes to Seoul normally operate daily, Cirium schedules data shows. The airline's Minneapolis/St Paul and Seattle routes to Seoul usually operate six-times weekly.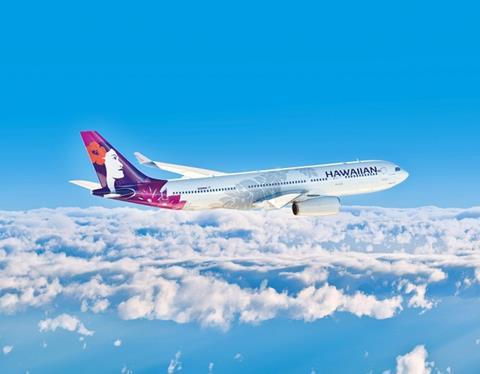 "We believe a temporary service suspension is prudent given the escalation of COVID-19 in South Korea and the impact the illness has had on demand for leisure travel from that country," says Peter Ingram, Hawaiian's president and chief executive. "We will continue to closely monitor the situation and extend our support for public health efforts to contain the virus. We apologise for this inconvenience and are working to support impacted guests."
Hawaiian operates non-stop service from its home airport Honolulu to Seoul five times a week, using an Airbus A330-200 on the route. The suspension of the flight will begin on 2 March and run through 30 April, the airline says. It has issued travel waivers to passengers departing to, from, or connecting through airports in Korea on codeshare flights.
As of early Wednesday, South Korea has reported 1,200 cases of the virus.
"This Hawaiian move is a sound one," says Mike Boyd, president and CEO of Boyd Group International. "Now with hundreds of infected people, the bookings on any airline to Korea are going to be near zero. This is particularly true with leisure traffic – which is likely the vast majority going between Hawaii and Korea."
US carriers are being prudent and taking the crisis seriously, he added. Most of the US airlines' revenues come from domestic operations, and the virus is likely to hit them least.
Also on Wednesday, several European carriers said they were taking measures to reduce costs due to the virus. Lufthansa Group is implementing a hiring freeze and offering staff unpaid leave. While the airline group says it is too early to estimate the earnings impact, its network operators Lufthansa, Swiss and Austrian Airlines have cancelled all flights to mainland China until the end of March and adjusted capacity to Hong Kong. Lufthansa says this is the equivalent of having 13 aircraft grounded.
United Airlines, which suspended flights from its US hubs to mainland China and Hong Kong through 24 April, withdrew its earnings guidance for 2020 earlier in the week, as it assesses the effects the virus will have on its business. The China and Hong Kong routes represent approximately 5% of United's planned capacity for 2020, with its other trans-Pacific routes representing an additional 10% of its planned capacity.