Hawaiian Airlines has said it will suspend its regional subsidiary Ohana by Hawaiian on 1 November as the carrier continues to experience economic hardship due to the coronavirus and resulting quarantine requirements.
Ohana by Hawaiian, operated by Empire Airlines on ATR-42 and ATR-72 aircraft, serves routes between Hawaii's capital Honolulu and Molokai island as well as Lanai on Maui. Earlier this year the airline already suspended its connection between Honolulu and Kapalua in West Maui.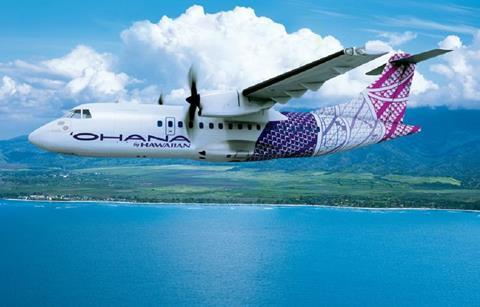 "It is an honour to provide essential transportation for the people of Lanai, Molokai and West Maui, and more recently all-cargo service within our state," says Peter Ingram, Hawaiian's chief executive, on 9 October. "While we are disappointed at being unable to avoid the service suspension, this is a difficult situation for both Hawaiian and Empire Airlines as we navigate an incredibly challenging period, and we all remain committed to returning flights to communities that rely on Ohana by Hawaiian."
Hawaiian says it tried to maintain the service, but low passenger demand and onerous quarantine requirements imposed by the government of the state forced the airline to stop the flights. The airline adds that the restrictions "triggered a labour provision in Hawaiian's pilot contract affecting the carrier's ability to provide Ohana by Hawaiian service".
The provision prevents the airline from operating the turboprop service when inter-island flights by the mainline carrier are severely reduced.
"While Hawaiian would be able to resume Ohana by Hawaiian service with a significant recovery in inter-island travel, that is unlikely to occur any time soon," the airline says.
Hawaiian furloughed almost 2,500 employees earlier this month after US government aid to the airline industry expired. So far, lawmakers have not been able to agree on an extension to the programme, which advocates say would give the airline industry more time to recover.