Hawaiian Airlines will reinstate its flights to the northeast USA as the weather there turns cold and potential customers who have refrained from travelling due to the coronavirus may be thinking of a winter getaway.
Hawaiian says on 21 October that its non-stop long-haul flights between Honolulu, the capital of the island archipelago 2,500nm (4,500 km) off the southwest coast of the mainland, and east coast cities Boston and New York will resume in December. They are among the longest domestic routes in the world.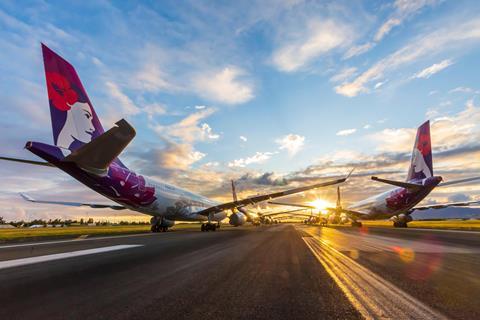 The airline will fly twice a week between Honolulu and Boston, and thrice every week between Honolulu and New York's John F Kennedy International airport.
The carrier also says it is bringing back its flights between Honolulu to Long Beach, California, as well as various routes between the islands of Kauai and Maui and several other cities in California.
The Long Beach, New York and Boston flights had been suspended in March at the advent of the global pandemic.
By bringing back these key routes, the airline hopes to profit from pent-up demand for a vacation after people in many parts of the country endured months-long lockdowns and shelter-in-place orders designed to stop the spread of the virus earlier this year. Industry analysts and airlines believe that the leisure travel market to prime warm-weather vacation spots like Hawaii, will be the first to recover as the air transport industry regains its footing following the global health crisis.
"We're pleased with increased demand for travel to Hawaii, and we're excited to once again offer our east coast guests the convenience of our non-stop flights as we welcome them to the islands with new health and safety measures," says Brent Overbeek, senior vice president of revenue management and network planning at Hawaiian Airlines.
Last week, the state began allowing inbound travellers to opt-out of its 14-day mandatory quarantine requirement if they could show a negative coronavirus test that was not older than 72 hours.
In this way the state's authorities hope to kick-start its tourism industry, which is an important part of the local economy.
Late last month, the carrier said it was reinstating direct service to ten cities in the western USA, and that it would begin to offer customers a drive-through coronavirus test opportunity at San Francisco International and Los Angeles International airports so that they could fulfil the state health requirements without trouble.
Competitor United Airlines also began offering coronavirus testing for Hawaii-bound passengers from San Francisco, its hub on the West Coast.
Hawaiian also has restarted weekly passenger flights to Japan, its most important non-US market. It had been operating cargo-only flights between Japan and Honolulu since June.