Hawaiian Airlines is reinstating more flights to Japan, its most important overseas market, as it rebuilds its network in the Asia-Pacific region after almost three years of Covid-19-driven restrictions.
The Honolulu-based carrier said on 25 January it is reinstating thrice-weekly flights to Fukuoka, in Japan's southwest, on 28 April, after reinstating daily flights to Tokyo and Osaka earlier.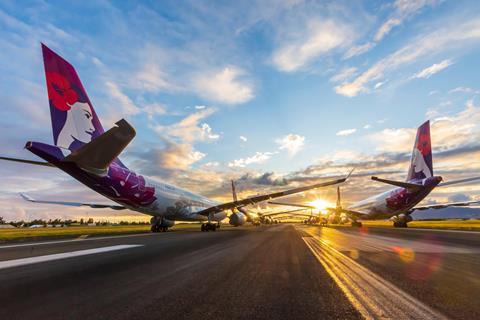 "We're delighted to be returning to Fukuoka as we lead the way in reconnecting travel between Hawaii and Japan," says Theo Panagiotoulias, senior vice-president of global sales and alliances for Hawaiian Airlines.
Hawaiian will fly to Fukuoka on Tuesdays, Fridays and Sundays, returning to Hawaii on Wednesdays, Saturdays and Mondays.
The airline had introduced flights to Fukuoka in November 2019, before being forced to suspend the route just four months later due to the global coronavirus pandemic that decimated air travel.
Strict travel restrictions in Asia prevented the airline from rebuilding its network earlier. Japan lifted most of its Covid-related travel restrictions on 11 October 2022.
Last week, US airline lobby group Airlines for America (A4A), of which Hawaiian is a member, said the return of capacity to Japan has been "sluggish" and that "forward-looking demand remains choppy".
Hawaiian Airlines is scheduled to publish its fourth-quarter and full-year 2022 results on 31 January.