Hawaiian Airlines is restarting service to 10 US mainland destinations and Tokyo following the state of Hawaii's partial reopening.
The move comes after Hawaii, located about 2,500nm (4,500km) from of the West Coast of the USA, decided to lift a 14-day quarantine requirement for arriving passengers pending proof of a negative coronavirus test that is less than 72h old. The measure takes effect on 15 October.
Honolulu-based Hawaiian says on 30 September that it will resume nonstop service between its home base and Las Vegas, Oakland, Phoenix and San Jose.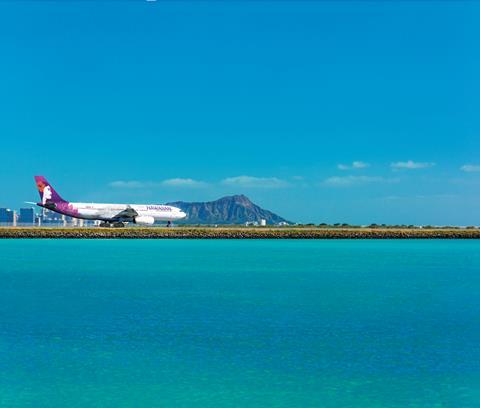 The Las Vegas flights begin on 1 October, with the others to resume a month later. By mid-November, Hawaiian says it will be serving 10 West Coast cities, also including Portland, Seattle, Sacramento, San Francisco, San Diego and Los Angeles.
"We're encouraged by the positive response to the state's decision to welcome travelers back to Hawaii, and we are resuming service to key markets to give our guests more options to visit our islands," says Brent Overbeek, senior vice-president of revenue management and network planning.
The airline says it will offer customers a drive-through coronavirus test opportunity at San Francisco International and Los Angeles International airports. Last week, United Airlines also began offering pre-travel coronavirus testing for passengers travelling between San Francisco and Hawaii.
Hawaiian says it will also resume one weekly passenger flight to Tokyo's Narita International airport on 1 October, for the first time since March. It has been operating cargo-only flights between Honolulu and Japan since June.