After suspending its flights to South Korea in late February, Hawaiian Airlines now has halted flights from Hawaii to Tokyo's Haneda International airport following declining demand for capacity to Asia amid the spiraling scare of the highly contagious coronavirus, also known as COVID-19.
Hawaiian says that beginning on 28 March it will temporarily suspend thrice-weekly service between Kona and Haneda, as well as four-times-weekly service between its home base Honolulu and Haneda. The suspensions will last until at least the end of April.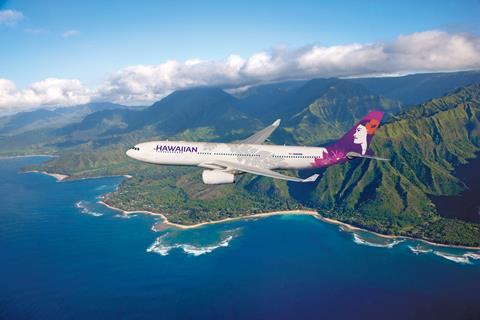 At the same time, the carrier says it will launch a previously planned additional daily nonstop flight between Honolulu and Haneda. The new flight will bring guests to Honolulu early in the morning so that guests may catch connecting flights to other islands more easily.
"Japan is a vitally important market for our airline, and we have been looking forward to launching our third nonstop flight between Honolulu and Haneda, which offers more convenient connecting times for our guests," Hawaiian's president and chief executive Peter Ingram says on 6 March.
"Unfortunately, the spread of COVID-19 beyond Asia has diminished near-term global travel demand, so we are balancing some of our Haneda capacity by suspending for about a month our hybrid service between Haneda and Honolulu and Kona" he adds.
Hawaiian had hoped its service to Haneda would anchor a proposed joint venture with Japan Airlines, which is currently stuck in US regulatory red tape. The airlines are awaiting a decision by the Department of Transportation regarding antitrust immunity for the venture. In November, the airlines submitted documents addressing the regulator's concerns about the venture's geographic scope, its public benefit and offering improvements to technology infrastructure to allow metal-neutral pricing and more efficient passenger processing.
Hawaiian had projected 2020 to be a major year of tourism for Japan with the Summer Olympics that are due to be held in July in Tokyo.
"Once the changes take place, Hawaiian's Japan-Hawai'i network of 35 weekly flights will include three daily nonstop flights connecting Honolulu and Tokyo: two flights serving Haneda and one flight serving Narita International airport," the airline says. Hawaiian also operates daily service between Honolulu and Osaka, four weekly flights between Honolulu and Fukuoka, and three weekly flights between Honolulu and Sapporo.
When the flights are reinstated, Hawaiian will offer 42 weekly connections between Hawaii and Japan.
Hawaiian cancelled its flights between Hawaii and South Korea's Seoul Incheon International airport on 26 February, as South Korea became one of the hotspots of the rapidly spreading coronavirus.
Other US airlines have also cut back services to Asia, with United Airlines reducing its international schedule by 20%, beginning in April, earlier this week. The Chicago-based carrier had already suspended some of its flights to Tokyo, Osaka, Singapore and Seoul and extended its flight cancellations to mainland China and Hong Kong through 30 April.
Delta Air Lines also slashed service to Japan this week, and said it would delay a plan to launch flights from Seoul to Manila. The Atlanta-based carrier says it will not operate a previously-planned summer-season flight between Seattle and Osaka, and reduce weekly flights to other Japan cities. Delta had intended to operate the Seattle-Osaka route from late March to mid-October, according to Cirium schedules data. The airline will resume the service in 2021, it says.
North America is expected to make up about 20% of the up to $113 billion in global airline losses that IATA is forecasting should the coronavirus outbreak not be contained in current markets that have more than 100 cases.