Hawaiian Airlines anticipates flying 90-95% of its normal schedule by May, as vaccine roll-out continues across the USA and as Americans begin to consider summer travel plans.
The Honolulu-based carrier is seeing renewed interest in vacationers from the US mainland coming to the Pacific archipelago as Covid-19 cases decline, the economy recovers and consumer confidence grows, the airline says on 12 March.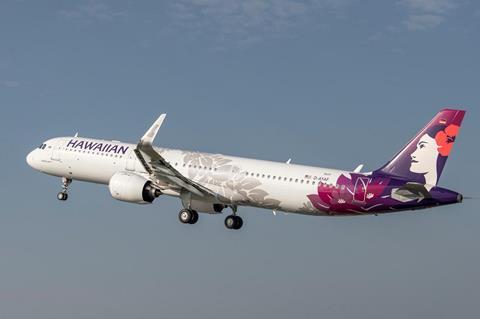 "The improvement in demand is encouraging, but we have a long way to go," Brent Overbeek, Hawaiian's senior vice-president of network planning and revenue management, writes in a blog post on the airline's website. "We have seen an upward trend in booking since mid-January as Covid-19 cases decline, confidence in the vaccines grow and people feel comfortable travelling again. Right now, our focus is on ramping up our North America schedule."
"In February, we flew about 60% of our pre-pandemic levels, and as we continue to add back service, I think we will likely be in the 90-95% range in May," he adds.
Early during the pandemic, the state of Hawaii imposed some of the USA's most-restrictive travel rules, including a mandatory quarantine. Those restrictions have been relaxed, allowing visitors to bypass self-isolation if they show negative Covid-19 test results prior to departure. Overbeek says the airline is confident rules will be further eased soon.
As the islands have opened, the carrier has tried to benefit from a shift in travel behaviour and preferences, adding capacity to "new markets that have demonstrated a strong interest in travel to Hawaii".
Beginning on 11 March, the airline introduced one of its longest non-stop flights, between Honolulu and Orlando, Florida. After Las Vegas, Orlando – home to Disney World and numerous other theme parks – is the second most-popular destination for residents of Hawaii, Overbeek says.
Next month, it will begin a direct flight between Honolulu and Austin, Texas, the "third-largest travel market to the Hawaiian Islands without the convenience of a nonstop flight".
Both of these routes are the first and only non-stops between the cities.
Hawaiian also launched a flight between Maui's Kahului and Long Beach, California on 10 March, as it ramps up operations to the US West Coast.
Most of the airline's fleet, which consists of 14 Boeing 717s, 24 Airbus A330s and 18 A321neos, according to Cirium fleets data, is back in service.
"We've certainly been agile in using the fleet in various ways over the past year, including introducing the Airbus A321neo into some neighbour-island flying and using the Airbus A330 for cargo-only operations, which expanded our existing charter footprint," Overbeek says. "As the travel industry, consumer confidence and the economy recover, I think we'll transition back to how we used our fleet before the pandemic."
Hawaiian is scheduled at the end of this year to receive the first of ten Boeing 787s it has on order. But, the carrier is unlikely to place the jets into service until 2023, Overbeek adds.