London Heathrow airport's operator ended last year with enough liquidity to see it through until 2023 after a dreadful 12 months in which it lost just over £2 billion ($2.8 billion).
Passenger numbers plummeted 73% at Europe's largest hub airport, to just 22.1 million, more than half of which were recorded in the first two months of 2020 before the pandemic fully hit air travel in Europe.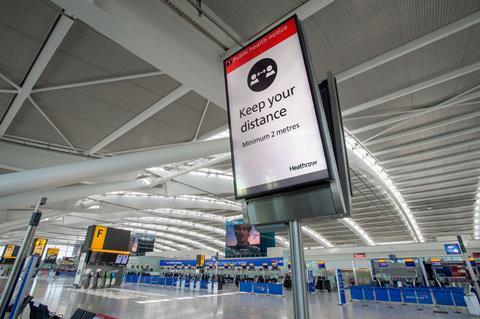 As a result of the collapse in international travel, in which long-haul markets have been particular hard hit, Heathrow Airport's revenues fell 62% to £1.2 billion.
The £2 billion loss for the year compares with a profit of £546 million in 2019.
Heathrow Airport says it acted quickly to counter the crisis, cutting operating costs by nearly £400 million, reducing capital expenditure by £700 million, and raising £2.5 billion in funding, including a £600 million capital injection.
"We ended the year with £3.9 billion of liquidity, enough to see us through until 2023," the airport operator says.
Heathrow Airport chief executive John Holland-Kaye says: "2020 has been one of our most challenging years – but despite £2 billion of losses and shrinking to passenger levels we haven't seen since the 70s, I am hugely proud of the way that our colleagues have kept our passengers safe and the UK's hub airport open for vital supplies throughout."
Passenger levels at the airport were down 89% year on year in January as lockdown restrictions continued to tighten in the UK over the winter, though airlines in the country reported a surge in bookings yesterday after the government said it would report on how to restart international travel on 12 April, with a view to relaxing travel restrictions after 17 May.
Holland-Kaye says: "We can be hopeful for 2021, with Britain on the cusp of becoming the first country in the world to safely resume international travel and trade at scale. Getting aviation moving again will save thousands of jobs and reinvigorate the economy, and Heathrow will be working with the Global Travel Taskforce to develop a robust plan underpinned by science and backed by industry.
"The prime minister will then have the unique opportunity to secure global agreement on a common international standard for travel when he hosts the G7 in June."
He reiterated calls for the UK to support aviation's recovery by extending its furlough programme beyond the end of April and to provide 100% business rates relief.