London Heathrow Airport has posted data for September which shows a weaker recovery than its continental rivals, with passenger numbers below 40% of their pre-pandemic levels.
The results stand in contrast to that of many European airports that have enjoyed a "stronger resurgence over summer", notes Heathrow.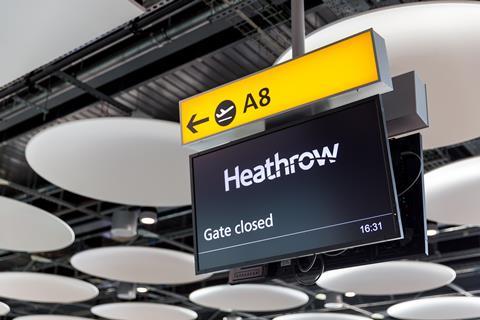 North American traffic at the UK hub was just a quarter of 2019's levels, it says. Meanwhile, cargo volume was down 8% on September 2019, "reflecting the way in which travel restrictions have been damaging UK exports and supply chains".
The airport adds that the easing of testing requirements and the reduction in the red list will make travel "simpler, cheaper and less stressful for all passengers". It is optimistic that these changes, and the forthcoming reopening of the USA to fully vaccinated passengers, will provide a boost to travel figures over school half-term holidays and Christmas.
Further data shows that 2.57 million passengers passed through the airport in September, more than double the level of last year. However, between October 2020 and September 2021 just 13.3 million passengers used Heathrow, 66% fewer than a year earlier.
For cargo, in the October 2020 to September 2021 period the airport processed 1.34 million metric tonnes of freight, an 11% increase on the same period in 2019-20.