Qantas Group will cut domestic capacity from July through March 2023 amid cost pressures from high fuel prices, though international capacity will remain unchanged for now.
A 24 June statement from the airline group says it will cut domestic capacity by a further 5 percentage points in July and August, on top of previously-disclosed cuts of 10 percentage points.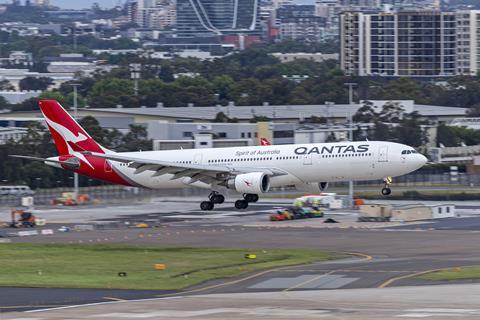 By September, the airline group will trim 15 percentage points off capacity, while it will cut 10 percentage points in capacity from October through March 2023.
The capacity cut means the airline group's capacity for the quarter to 30 September will dip slightly against 2019 levels, to 99% of pre-pandemic capacity.
The subsequent quarter will see capacity rise to 106% pre-pandemic capacity, while ASKs for the quarter to 31 March 2023 will rise to 110% pre-pandemic levels.
"These reductions, combined with robust international and domestic travel demand, are expected to help the Group substantially recover the elevated cost of fuel indicated by forward oil prices. They will also assist with the near-term resourcing pressures currently being felt across aviation and the broader economy," says Qantas.
Airline chief Alan Joyce hinted at capacity cuts at the IATA annual general meeting in Doha, telling reporters that the airline group is "working through" possible cuts to absorb the steep increase in fuel costs.
Qantas says the affected routes are "mostly from high-frequency routes", and so expects there to be minimal impact to travellers.
On its international network, Qantas expects to hit about 70% pre-pandemic capacity by end-September, before rising to 90% around June 2023. Joyce previously stated the airline group is targeting full international recovery around mid-2023.
The airline group expects the strong rebound in travel demand to help improve its financial position, with net debt expected to fall to A$4 billion ($2.8 billion) by 30 June.
While it still expects to be loss-making in the current financial year, which ends on 30 June, Qantas says it is "on track" to make an underlying profit in fiscal 2023.