Hong Kong's government will take a safety-first approach when its travel bubble with Singapore launches on 22 November, and the launching of further bubbles with other countries or regions will come with strict anti-Covid-19 preconditions.
"It takes two to tango," the city's secretary for commerce and economic development Edward Yau told journalists on 11 November in Hong Kong, referring to the delicate balancing of interests between parties in bilateral bubble negotiations.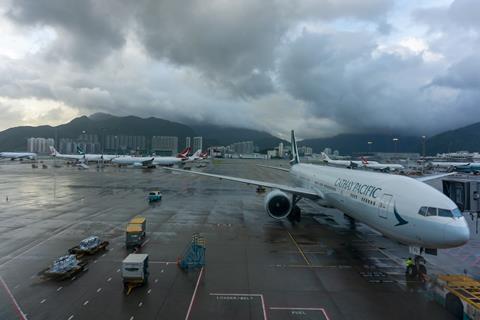 "Of course, the different partners may have different considerations based on their own situation. Some might prefer to give priority to certain categories of visitors, some might impose certain restrictions on local movement. In each and every case we have to sit down and talk, very much like what we have done in the past couple of months [with Singapore]," he says.
"But among all the conditions, one of the prerequisites [is] the partner that we are talking with must have a situation comparable to Hong Kong in terms of epidemic control."
While Yau did not specify exactly how this would be determined, European countries are generally reporting significantly higher rates of Covid-19 infections and deaths than Hong Kong.
Many countries on the continent are experiencing a resurgence of the virus, with new lockdowns being implemented in countries such as the UK, France and Germany. Slovakia, with a smaller population than Hong Kong, found 57,500 new infections after testing its entire population on 31 October and 1 November – more than 10 times the number Hong Kong has reported since virus emerged.
Hong Kong began approaching other countries about travel bubbles back in June, starting with Japan, Thailand, South Korea, New Zealand and Australia. This list later came to include Germany, France, Switzerland, Vietnam, Malaysia and Singapore.
As of 11 November, France has had nearly 1.86 million confirmed cases of Covid-19 and some 41,062 deaths, while Germany has had 715,693 confirmed cases and 11,781 deaths, 11 November data from Johns Hopkins University shows. While Hong Kong's population is considerably smaller than France's and Germany's, the Chinese special administrative region has reported only 5,389 cases and 108 deaths, the same data shows.
Although the government did not give details on the progress of talks with various countries, some of the countries in Asia-Pacific with which Hong Kong is in dialogue would seem more likely to meet Yau's prerequisite.
Thailand, with a population almost 10 times that of Hong Kong, has reported only 3,847 confirmed Covid-19 cases and 60 deaths. Similarly, Vietnam has reported only 1,226 confirmed cases and 35 deaths.
At the end of October, Australia reported no new local Covid-19 cases for the first time since 9 June. Prime minister Scott Morrison said on 10 November that Australia was considering opening its borders to some "low-risk" Asian countries, including parts of China, Reuters reports. It is not clear whether Australia is considering Hong Kong, which is a special administrative region of China.
Across the Tasman, New Zealand has reported only 1,988 confirmed cases and 25 deaths.
Japan, a popular travel destination for Hong Kong residents, is still reporting hundreds of new cases per day, while South Korea and Malaysia have been reporting double- or triple-digit case numbers.
"Basically the Hong Kong proposal is the same to every partner [country or jurisdiction] that we are talking to, but of course it must be premised on condition number one: that we are talking with countries, or cities, or economies that are of a comparable situation in terms of epidemic control," says Yau.
"I will be using this twin sort of principle: safe and secure on the one hand, and facilitating on the other. On this basis we will continue to work, but as I mentioned at the outset, it won't be easy because, well, we need to be entirely comfortable and assured before we can embark on this bilateral arrangement."
SAFETY FIRST WITH THE SINGAPORE BUBBLE
The travel bubble with Singapore that will launch on 22 November is Hong Kong's first and the city hopes it will provide a much-needed boost to the aviation, hotel, tourism and retail industries, among others, which have been battered not only by the coronavirus but also the 2019-20 anti-government protests.
In the first 15 days of the bubble, Yau says, there will be one flight per day that may carry a maximum of 200 passengers and, depending on the situation, this will later be increased to two flights.
"The entire air travel bubble arrangement is premised on two very important principles: one, it must be safe and secure in the foremost. Once that has been satisfied, it must be as facilitating as possible. That's why we are doing this on a progressive basis and orderly manner," Yau says.
One of these preconditions for travel, which will help Hong Kong "err on the safe side", is that travellers from Hong Kong to Singapore must be tested for Covid-19 both pre-departure and upon arrival in Hong Kong. Singapore does not have a testing requirement for arrivals from Hong Kong, Yau notes.
Travellers must have tested negative in mutually recognised tests taken within 72 hours before their departure. They must also have no travel history to any places other than Singapore or Hong Kong in the last 14 days prior to their departure.
Secondly, all the flights under the arrangement will be "bubbled", which Yau says means the flight is dedicated for these two destinations and will not carry transit passengers. The pilot and other air crew members will "follow the same principle", says Yau, without elaborating.
"So these are two control measures making sure that, well, there is a safe passage between these two places through the arrangement," he says.
Both Singapore and Hong Kong will monitor the bubble, and arrangements will be suspended for two weeks if the seven-day moving average number of unlinked Covid-19 cases exceeds five.
"It's only when the number has gone down that this will be reactivated again," Yau says, adding that this will include discounting imported cases and cases "which might be related to a cluster". Earlier this month, Hong Kong discovered a Covid-19 cluster related to a group of people who stayed at a hotel on Lantau, the large island in the west of Hong Kong whose northern section is home to the city's international airport.
Yau adds that while the bubble could expand to include more flights, there is also the potential to shut it down for a longer period if the situation with the virus worsens.
"Both sides will look into the control mechanism, the situation of the epidemic, to adjust – either expand the capacity if both sides are comfortable, or reduce it as the criteria suggest, or even suspending it for a while or for a longer term if things turn worse," he says.
Yau adds that the government will not rush to increase the number of flights for the Christmas holidays, prioritising safety over Hong Kong residents' desire for a Christmas trip to Singapore.
"I think we are facing the reality that, well, travelling seasons are not dictated by the traditional festivals; it is very much dictated by the pandemic situation," he says.
PCR VERSUS RAPID TESTING
The Hong Kong government is also prioritising accuracy over speed with the types of Covid-19 testing it will be permitting.
At present, the Hong Kong government advises travellers arriving in the city that waiting times for the testing process upon arrival may be up to 12 hours or more. Passengers must go to a Temporary Specimen Collection Centre set up in the restricted area of the airport for collection of their deep-throat saliva samples immediately upon arrival in Hong Kong and can only proceed with immigration procedures and collect their checked-in baggage after completing relevant testing procedures, according to the government's official coronavirus website.
A 12-hour wait in the airport could deter some travellers from taking the bubble flights, and the government hopes wait times can be brought down. However, it is not rushing into rapid testing before it has sufficient evidence of its reliability.
Constance Chan, director of health at Hong Kong's department of health, who spoke at the same 11 November press conference as Yau, says that under the bubble, polymerase chain reaction (PCR) tests will be accepted, and because the Airport Authority will be "contracting out the tests… the turnaround time will be shorter because they will be having a dedicated laboratory set up at the airport itself".
Chan adds that the rapid test is undergoing trials by the Airport Authority and its private contractor.
"We will be looking at the data and until we have analysed the data and it has proved to be satisfactory and good enough we will not be adopting this rapid test. We will still be using the gold standard PCR test," she says.
Yau adds: "Because it's on site, the average [wait] time [for passengers], we understand, is about four hours compared with the current situation. But the most important point is still test and hold until the result has been released. The passenger will have to wait at the airport, but it will be a shorter time, we hope."
This analysis is written by Michael Allen, a Hong Kong-based member of Cirium's reporting team