Icelandic start-up Play Airlines is set to launch the first transatlanic flights to New York Stewart International airport since Norwegian cut its fledgling services there in 2019.
Play will serve Stewart daily from Reykjavik beginning 9 June. It marks the third US destination Play has announced plans to serve. It will launch flights to Baltimore in April and Boston the following month.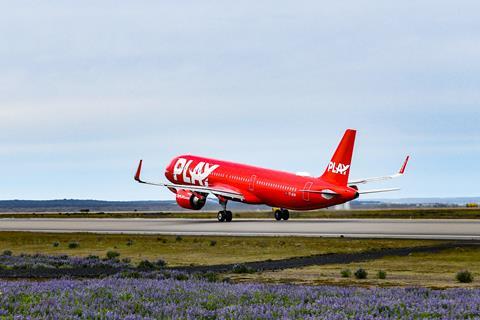 The airline launched flights to European short-haul destinations last summer using three Airbus A321neos. It has since has struck deals with China Aircraft Leasing and GECAS covering the lease six more A320neo family aircraft to support its launch of transatlantic flights.
Stewart airport, which is located in Newburgh in the Hudson Valley, is a secondary airport serving the New York market behind the city's main JFK and Newark hubs. Norwegian is the only carrier that has previously operated scheduled transatlantic flights from the airport, though Norwegian start-up Norse Atlantic Airways in January secured US regulatory approval to launch flights including a planned Oslo connection to Stewart.
Play chief executive Birgir Jonsson says: "After we learned of the economic growth and the attractions in the area surrounding New York Stewart and the benefits the airport has, we did not hesitate and believe that this is a great opportunity.
"This decision enables us to offer the lowest prices on flights between New York and Europe as we get a good deal being the first airline operating international flights from the airport."
Play's business and network model has thus far been built on much of the early strategy of Icelandic carrier Wow Airlines, which operated flights using narrowbody aircraft to connect Europe and the east coast of the USA through its home airport Reykjavik.
However, while Baltimore and Boston are both former Wow destinations, the latter served New York from both JFK and Newark airports before wider financial problems ultimately led to its collapse in 2019.
Norwegian launched flights from Belfast, Bergen, Dublin, Edinburgh and Shannon to Stewart in the summer of 2017. Norwegian pulled its Belfast and Bergen services to Stewart at the end of the summer in 2018, while its Dublin, Edinburgh and Shannon connections were subsequently also dropped over the course of the next year.
Cirium schedules data shows the last transatlantic service to Stewart, Norwegian's daily service to Dublin, ended in September 2019. The routes were cut even before the pandemic hit, and formed part part of a profitability drive at Norwegian after several years of expansion. Norwegian, as part of its financial restructuring, has since dropped long-haul operations altogether.
Rick Cotton, executive director of the Port Authority of New York and New Jersey – which operates the airport – says: "The addition of Play's international service is important in realising our post-pandemic vision for New York Stewart as a leading regional provider of both international and domestic air service and as a generator of strong economic growth."
Cirium schedules data for February shows US low-cost operators Allegiant Air and Frontier Airlines, which both serve a number of destinations in Florida, are the only scheduled carriers flying from Stewart.