Hainan Airlines is to restart flights to Russia, joining a small number of airlines operating to the country following its invasion of Ukraine.
The Chinese carrier will from 12 July operate once weekly between Beijing and Moscow with its Airbus A330s.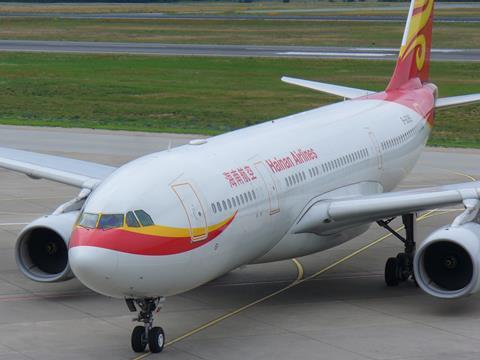 Under Chinese pandemic travel restrictions, the flight will first make a stop at Xian, before continuing to Beijing. The 'entry point' restriction was imposed to keep out imported cases at the country's major cities, and sees airline reroute flights through a second- or third-tier Chinese city.
Amid the ongoing war in Ukraine, Russia's airspace remains closed off to most international operators, with a few exceptions including China.
International carriers have pulled out of the Russian market, and several countries have also banned Russian carriers from operating into their airports.
Cirium schedules data shows there are only two other operators on the Beijing-Moscow route in July. State-owned Air China operates once a week with a Boeing 777-300ER, while Aeroflot only has one flight scheduled in the month, operated by its A330.
Hainan, for its part, first operated flights between the two capital cities in 2009, before suspending it in 2020 at the onset of the pandemic, when China shut its doors to international travel.
Moscow is the airline's fifth route in a pared-back international network. The airline says it has regular flights between Beijing and Brussels, Chongqing and Madrid and Rome, as well as between Shenzhen and Vancouver.
Says Hainan Airlines: "The resumption of the Beijing-Moscow route will once again build an air bridge for friendly exchanges between China and Russia, bringing convenient, efficient and high-quality travel experience to Chinese and Russian passengers."