SpiceJet has carried out its first service to Ras Al Khaimah airport a year after the Indian low-cost carrier identified the emirate as its first international hub.
The Boeing 737-800-operated service from Delhi touched down at the UAE airport in the early hours of 27 November. The service will operate twice-weekly.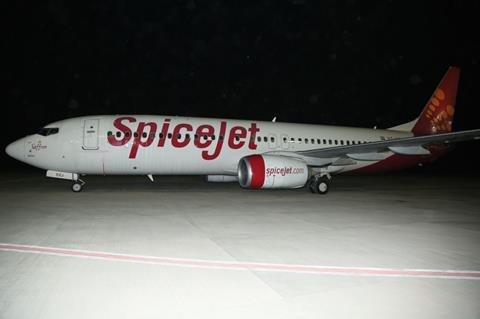 SpiceJet announced in October 2019 its intention to establish Ras Al Khaimah as its first international hub. Originally planning to launch Delhi flights in December last year, it had ambitions ultimately to extend its network from the airport to other points including Western Europe.
Services on the initial Delhi route had not, though, begun before the global pandemic brought international scheduled services to a virtual standstill.
SpiceJet chief executive Ajay Singh says: "The addition of Ras Al Khaimah as our 12th international destination marks one of the most important days in our 15-year history and represents a major stepping up of our commercial operations.
"RAK Airport has been a vital partner for us since we signed an MoU with them last year and they are a major part of our expansion plans, which are to deliver more services to more destinations across the Indian sub-continent and the rest of the world."
The emirate has been without a home carrier since the collapse of Rak Airways in 2014.