Singapore Airlines Group is to boost capacity to points in India and Japan, as part of a network ramp-up that will see it operating close to 81% pre-pandemic capacity by the end of the year.
The airline group, comprising mainline carrier SIA and low-cost unit Scoot, is seeing "strong demand" for travel, especially in the months after Singapore fully eased travel restrictions.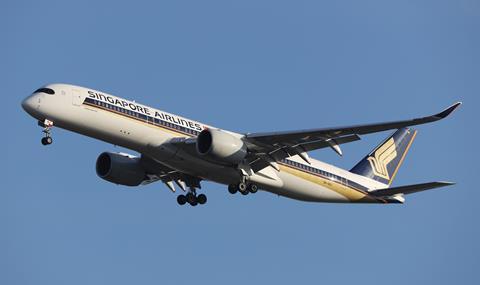 Traffic results for May indicate the airline is operating at about 61% pre-Covid-19 capacity.
The latest capacity increase will come in time for the Northern winter season, which runs from 30 October to 25 March 2023.
For India, SIA Group expects to be operating close to pre-pandemic capacity by end-October, with the airline increasing frequencies to three cities: Chennai, Kochi and Bengaluru.
As for Japan, the airline group will from 24 July increase the number of flights to capital Tokyo from 14 weekly flights to thrice a day - twice daily to Tokyo Narita, with a daily flight to Tokyo Haneda. By 30 October, it will resume operating a second daily flight to Tokyo Haneda.
SIA will also reinstate a second daily flight to Osaka Kansai, and increase frequencies to Fukuoka. By end-October, the airline expects to operate at 62% pre-pandemic capacity.
Japan has started allowing a small number of foreign travellers into the country, though they have to abide by strict requirements.
Other network changes include two additional weekly flights to Paris from 1 December, as well as four extra flights on its non-stop flights to Los Angeles.
SIA will also continue operating direct flights to Vancouver through March next year, noting that demand has held up. The airline first introduced the seasonal route in late-2021, in the early months of Singapore's border reopening.
In May traffic results, the airline group carried 1.7 million passengers across the network, an increase of more than ten-fold year on year. It was also about 17% higher month on month.