Following news of Japan reopening its international borders on 11 October, airlines in the region have announced a ramp-up in capacity, in anticipation of an upswing in demand.
Japan Airlines and All Nippon Airways (ANA) have both announced a series of international network updates – the latest in a series of updates in recent weeks.
ANA revised upwards its capacity forecast for November and December by one percentage point, with hundreds of flights a week added to its schedules. In its latest update, the airline is doubling flights from Tokyo Haneda to Seoul Gimpo, and increasing flights to Qingdao and Hangzhou in China.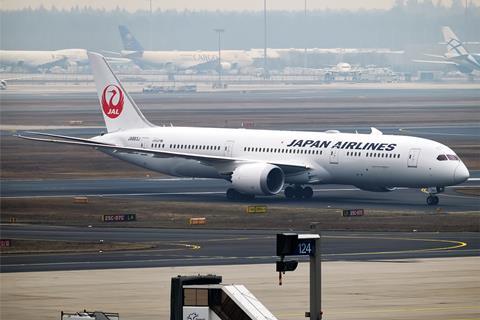 JAL will also ramp up flights to Seoul Gimpo to twice daily, with a third daily flight likely by year-end.
Over in South Korea, Jin Air is increasing flights to Japan from this month, "in consideration of the growing demand for travel to Japan".
The LCC unit of flag carrier Korean Air will add flights from Seoul Incheon to Tokyo Narita, Osaka and Fukuoka, it says in a 12 October statement.
Jin Air is to reinstate daily flights between Busan and Osaka from the end of the month, with flights from Seoul to Sapporo to resume in December.
The latest increase in flights follows similar announcements from other Asian carriers, like Singapore Airlines and AirAsia, which will be adding more flights to Japan as the country reopens for general travel.
Separately, China Airlines is to ramp up its international flying, with Taiwan set to open up its borders for quarantine-free travel on 13 October.
The SkyTeam carrier's North Asia network – covering Japan and South Korea – will see the most significant increase in capacity, with the number of weekly flights quadrupling by the end of the month. Flights set to resume include those between Taipei Songshan and Seoul Gimpo, the airline states.
South Korean start-up Air Premia, meanwhile, will be launching its first flight to North America in end-October, operating five weekly flights from Seoul to Los Angeles. It follows the launch of flights to Ho Chi Minh City on 6 October, The airline, which began operations in 2021, also flies to Singapore.
News of North Asia reopening has been welcomed by airline industry body IATA, which notes that the move will help in recovery momentum.
Still, there is concern about China –a major North Asian economy and a key tourism source market for a number of Asian countries – remaining shut off to international travel as it hews to a zero-infection strategy.