UK leisure carrier Jet2 has again pushed back the date for restarting flight operations, as a result of Covid-19-related travel restrictions.
The airline had originally intended to start flying again on 17 June. but later amended this to 1 July, and now says it plans to resume operations on 15 July.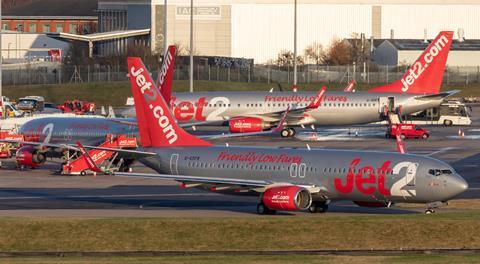 The UK Foreign and Commonwealth Office is still advising British nationals against "all but essential international travel".
In addition, the government on 8 June enacted a measure whereby most passengers arriving in the UK must go into quarantine for 14 days. British Airways, EasyJet and Ryanair have begun joint legal proceedings against the restriction. The government says the measure will be reviewed by the end of the month, but there is no guarantee that it will be lifted at that point.
Jet2 says it will get in touch with customers who had booked to fly before 15 July.
"We are continuing to proactively contact customers to discuss their options, one of which is rebooking their holiday to a later date," states the airline.
It adds: "We are working closely with all relevant authorities to ensure the safety and wellbeing of everyone enjoying our flights and holidays, and we will be introducing a range of safety measures on our aircraft and transfer vehicles. We are also working closely with airport, hotel and tourist board partners to ensure that appropriate health and safety measures are implemented."
Jet2 has cancelled summer leases on 12 aircraft and furloughed roughly 80% of its employees under the UK's job-retention scheme.