American Airlines and JetBlue Airways are again expanding their networks from Boston and New York's John F Kennedy International airport as part of their so-called Northeast Alliance.
The carriers say on 21 April that both cities will see "significant growth, with new nonstop service and additional code-share routes". They attribute the expansion to their new collaboration, which the US Department of Transportation (DOT) approved in January.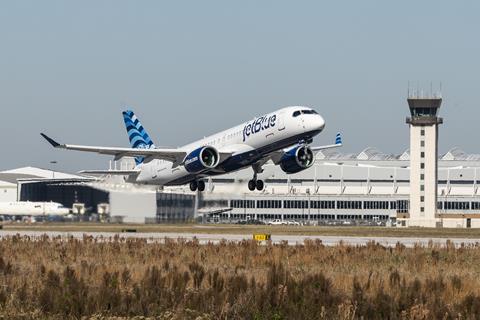 New destinations for Fort-Worth-based American from Boston will include Cincinnati, St Louis and Toronto. American will also begin flying from New York's LaGuardia airport to Houston, Oklahoma City and Omaha.
JetBlue will launch several new routes from New York and Boston, including those to seven cities that are new to JetBlue's route map: San Antonio, Kansas City, Ashville, San Pedro Sula (Honduras), Vancouver (Canada) and Puerto Vallarta (Mexico).
JetBlue will also begin flights from LaGuardia to Jacksonville, Nashville, New Orleans, Portland (Maine), Sarasota and Savannah. The airline will launch those routes between October and summer 2022, it says.
The expansion will result in JetBlue "tripling flights at LaGuardia compared to 2019 levels and introducing more than 40 additional code-share routes", the New York-headquartered low-cost carrier says.
"With these additions, American and JetBlue will offer more service between New York and Florida than any other carrier," American says.
The American-JetBlue alliance has stirred controversy. Low-cost carriers like Spirit Airlines and Southwest Airlines have complained to the DOT about competitive concerns and alleged that the airlines may be coordinating beyond the scope of the approved agreement.
INDIA FLIGHTS
American also on 21 April said it will launch flights between JFK and New Delhi, India on 31 October, using Boeing 777-200s. The move reflects "strong local demand", says American. The airline will operate the flight thrice weekly except from 17 November through 3 January, when the flight will depart daily.
The Covid-19 crisis remains far from over in India, which is suffering a spike in cases. On 20 April, the south Asian country reported more than 295,000 new infections and more than 2,000 deaths.