JetBlue Airways and Spirit Airlines have applied with the US Department of Transportation to received more than a dozen newly available take-off and landing slots at Newark Liberty International airport.
The airlines are seeking 16 daily slots given up by Southwest Airlines when that carrier stopped serving Newark in 2019.
The DOT had initially not intended to redistribute the slots following Southwest's retreat. But the agency has now changed course, citing a court decision and presidential order.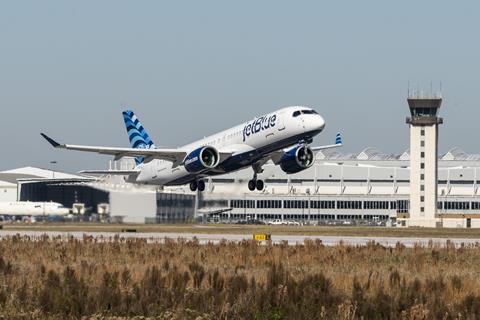 The slots are for take-offs and landings during the daily peak-travel period between 14:00 to 21:59.
Newly released documents reveal that JetBlue and Spirit applied for those slots earlier this year.
New York-based JetBlue submitted its application in June, the airline says in a 4 August letter to the DOT's deputy administrator Bradley Mims.
JetBlue says expanding its service at Newark would bring "much-needed low-fair competition to one of the foremost fortress airline hubs in the world".
The carrier began flying to Newark in 2011 and in recent years has significantly expanded its Newark presence, according to Diio data. During the busy summer 2021 travel period, JetBlue flew from Newark to 39 cities, up from 10 destinations in the same period of 2019.
The carrier "expects to operate up to 70 daily flights at [Newark] in the future", the August letter says.
Spirit, based in Florida, also applied for the slots, according to a 2 June letter from the airline to the DOT.
"Spirit's request would directly advance the public interest by creating important long-term ultra-low-fare competition on United monopoly routes," Spirit's just-released letter says.
That airline started flying to Newark in 2016 and will serve 13 destinations from the airport this quarter, Diio shows.
United Airlines and its partner carriers operate about 60% of flights at Newark, where United has a hub, the data shows.
Southwest had acquired 36 Newark slots in 2010 from United Airlines, which gave them up as a condition for the US Department of Justice approving its merger with Continental Airlines, which closed in 2010.
After Southwest left Newark in 2019, the DOT retained the 16 slots earmarked for the peak-hour operations. It has cited airport congestion and flight delays as reasons for not distributing the slots.
But in a notice released on 17 September, the DOT said it had changed course and would now award the 16 slots to a single low-cost or ultra-low-cost airline.
The DOT's notice citied a May order from a federal court. That order vacated the FAA's decision not to award the slots, saying the agency had not accounted for competition-related factors.
The DOT also attributed its reversal to a 9 July order signed by President Joe Biden that outlines a policy intended to promote competition.