JetBlue Airways will launch daily flights from New York's John F Kennedy International airport and Boston Logan International airport to Amsterdam's Schiphol airport beginning in August and September, respectively.
That will bring the number of European cities served by the New York-based carrier with its fleet of single-aisle Airbus A321LRs to three – in addition to London and Paris.
"Entrenched legacy carriers have dominated this route for decades," says Robin Hayes, JetBlue's chief executive said on 25 April. "We look forward to continue expanding JetBlue's transatlantic footprint and introduce customers travelling to and from Amsterdam to our award-winning service."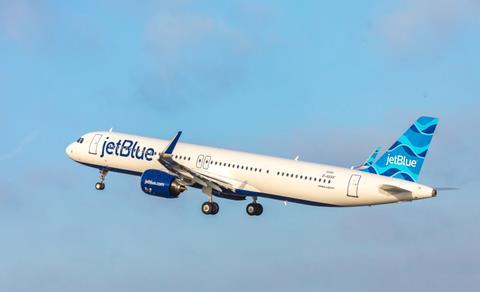 JetBlue said in March that it had secured slots at Schiphol after accusing Dutch regulatory authorities of "blatant" discrimination on the part of Amsterdam's slot coordinator – Airport Coordination Netherlands (ACNL) – against the airline's repeated slot requests. The airline had alleged in a filing with the US Department of Transportation (DOT) in February that its efforts to secure take-off and landing slots at Schiphol had been rebuffed for years.
The airline's new flights to the Netherlands will operate daily and "will allow JetBlue to effectively disrupt the market" that had been a mainstay of legacy carriers for decades.
The New York-to-Amsterdam route is scheduled to launch on 29 August with the Boston-to-Amsterdam flights beginning on 20 September. The company's A321LR aircrart are configured with 24 "Mint Suite" seats and 114 economy seats in the Airspace cabin.
JetBlue currently flies to London from both Boston and New York and will begin operating from JFK to Paris' Charles de Gaulle airport beginning on 29 June.
Earlier in the day, the airline said it had generated record revenue during the first quarter of 2023, but still posted a $192 million loss in the three months that ended on 31 March.