JetBlue Airways is launching a major expansion to southern sun destinations - including four new airports - in a broad effort to snag more of the vacation market from its competitors as the air travel industry slowly climbs out of its coronavirus-driven hibernation.
The 24 new routes are part of an aggressive plan to capitalise on the expected increase in leisure travel following an almost year-long crisis in the industry due to the global pandemic.
"This year has pushed us to find new ways of operating our business and we've adapted at a pace we've never seen before, pivoting our network in response to changing customer demand," says Scott Laurence, head of revenue and planning for the New York-based low-cost carrier on 17 December. "We're continuing to play offense to bring in cash revenue and support our business recovery."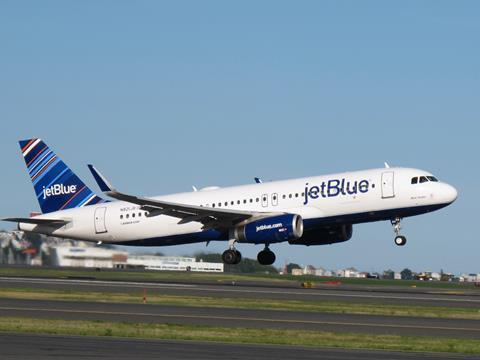 JetBlue says that it will fly to Miami International airport for the first time, offering daily non-stop connections from Boston, Newark, New York and Los Angeles beginning on 11 February. The flights between the northeastern US cities will be four times daily, and the airline will offer twice-daily connections to the West Coast.
So far, the airline's major South Florida destinations had been Fort Lauderdale-Hollywood International airport and Palm Beach International airport, only 28mi (45km) and 70mi north of Miami, respectively.
In addition, the carrier is adding Key West on Florida's southwestern tip, Guatamala City in Guatamala and Mexico's Los Cabos International airport into its schedule.
Key West will be served four times weekly from Boston and New York's John F Kennedy International airport each; Guatemala City once daily from John F Kennedy; and Los Cabos once daily from John F Kennedy and Los Angeles International airport each. The Guatamala City flights will begin in April, and the airline will commence flying to Los Cabos in June.
The carrier also announced 15 other new routes between cities it already serves, "aimed at immediately generating cash and capturing traffic", Jet Blue says.
The flights come as cold-weather-weary northerners who have been cooped up and staying put for almost a year begin to think about a winter getaway. The airline is banking on the fact that it will benefit from a great deal of pent-up demand. Executives hope that direct flights to new destinations - without the need to change aircraft and spend significant time in transit at an airport - will inspire customer confidence to once again return to air travel.
JetBlue has been aggressively pursuing more leisure travel share as the industry's recovery stalls amid exploding coronavirus case counts across the country.
In September, the airline had launched 24 new domestic and international routes to a variety of warmer-weather destinations like Florida's Fort Myers and Tampa, the Bahamas, Mexico and Costa Rica.
In November, JetBlue's chief executive Robin Hayes said that despite what is turning out to be a choppy recovery the airline is still planning on launching transatlantic service between New York and London in the second half of 2021. At the time he said that the airline's planning assumption is that "all of our leisure travel will be largely recovered by the end of 2021".
The carrier reported a $393 million loss for the third quarter of the year and said that by the end of 2020 it planned 45% less capacity from 2019 levels, as a patchwork of travel restrictions - including ongoing quarantine requirements - continue to make planning a trip difficult and complex..