JetBlue Airways is scheduled to launch its inagural flight to London on 11 August.
Flight number 7 is scheduled to depart New York's John F Kennedy International airport at 21:48 local time, and arrive at London's Heathrow airport the next morning at 10:10 local time, according to flight tracking website FlightAware.com.
The low-cost carrier will use an Airbus A321LR on the route, equipped with 138 seats, including 114 in economy and 24 in JetBlue's "Mint" lie-flat first-class product. It is the first time the airline will operate a transatlantic revenue flight.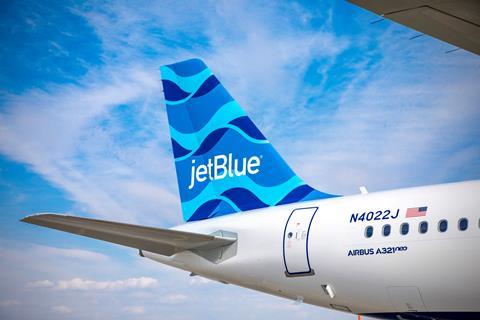 JetBlue has taken delivery of three of the type, which have range of 4,000nm (7,410km). More will follow in 2022, the carrier says. JetBlue also holds orders for 4,700nm-range A321XLRs. That aircraft can easily connect New York or Boston to the European continent.
While the flight marks a milestone in JetBlue's operations, the New York-to-London route faces uncertainty amid ongoing coronavirus travel restrictions and the rapid spread of the virus' even more highly-contagious "Delta" variant on both sides of the Atlantic Ocean.
Last month, JetBlue chief executive Robin Hayes said the airline would make "schedule adjustments" to its planned transatlantic flights in light of the ongoing complexity of transatlantic travel. He said the airline "will fly our schedule every day per plan initially, [and] we are looking at September… to bring down some of the flying, and then we will continue to review it on a month-by-month basis".
The airline announced its US-to-UK connection in May, saying it would begin flying between JFK and London Heathrow. JFK to London-Gatwick is due to begin on 29 September, followed by non-stop flights between Boston and London in "summer 2022".
On 5 August, the US administration of president Joe Biden said it would maintain an entry ban for travellers from Europe, the UK, China, Brazil and other countries – restrictions that have been in place for almost 18 months. But, the administration also said it is working on a plan to open its borders to vaccinated travellers.