JetBlue Airways will begin daily flights between New York John F Kennedy International airport and London Heathrow on 11 August, followed on 29 September with daily JFK-London Gatwick flights.
Additionally, the New York-based airline plans to begin services between Boston and London in "summer 2022", JetBlue announced on 19 May.
In disclosing the planned routes, JetBlue ends the speculation regarding destinations that has abounded since 2019, when the airline announced its intention to fly across the Atlantic.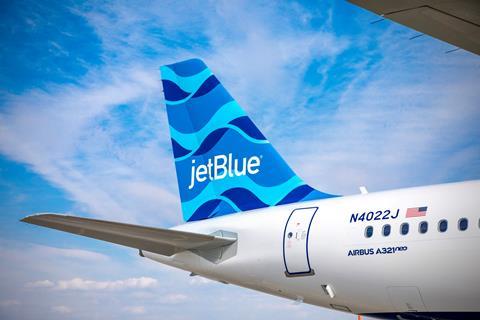 JetBlue will fly the routes using Airbus A321LRs equipped with 141 seats, including 117 in economy and 24 in JetBlue's "Mint" lie-flat first-class product.
The airline received its first A321LR, which has a range of 4,000nm (7,410km), in April and intends to have three by year-end, with more following in 2022, it says. JetBlue also holds orders for 4,700nm-range A321XLRs.
"The pandemic has opened doors to London's two busiest airports," says JetBlue chief executive Robin Hayes. His comments are perhaps a nod to the airline's ability, after some wrangling, to secure London airport slots.
"JFK-LHR, the single-largest international air travel market from the US, has long suffered from outrageously high fares… especially in premium cabins. We're ready to change that," Hayes says.
American Airlines, British Airways, Delta Air Lines and Virgin Atlantic Airways fly the JFK-London Heathrow route, according to Cirium schedules data. No airlines currently fly from JFK to Gatwick, though BA and Norwegian operated that route in 2020.
BA and Virgin fly from Boston to London Heathrow, Cirium shows.
JetBlue is selling tickets on the JFK-Heathrow route starting at $599 for a round-trip in economy class and $1,979 in Mint, though actual available fares on its website are more expensive.
"We've always said that JetBlue would serve multiple London airports, and we're pleased to have secured a path at Heathrow and for long-term growth at Gatwick," Hayes says. JetBlue will operate at Heathrow from Terminal 2.