JetBlue Airways plans to expand its European network beyond London next summer with new flights between New York's John F Kennedy International and Paris Charles de Gaulle airports.
The New York-based carrier also intends to fly from Boston Logan International airport to Paris, though has not specified when, it said on 16 November.
The airline began serving Europe in August 2021 with the London flights, and now flies from Kennedy and Logan to both London Gatwick and London Heathrow airports. It does so using Airbus A321LRs, which have 4,000nm (7,408km) of range.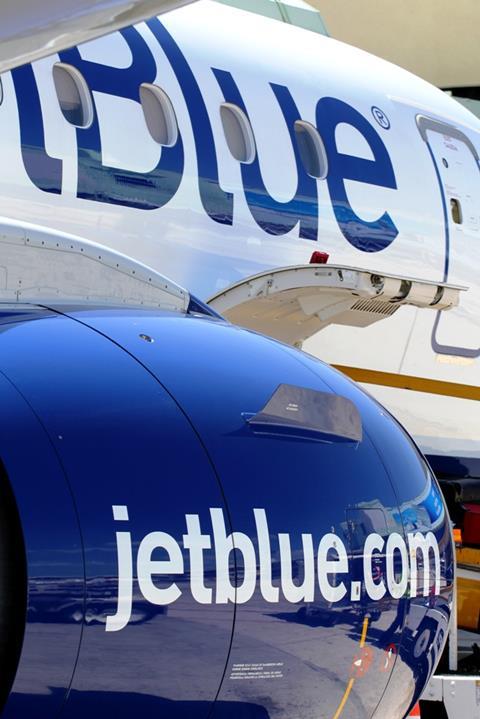 JetBlue's executives have long said they intend for the low-cost carrier to serve Paris.
The carrier plans to start Kennedy-Paris flights in "summer 2023", followed later by Boston-Paris flights. The company has not provided a more specific timeline.
"Seats will go on sale in the coming months," says JetBlue. "With service to both London and Paris, JetBlue will play a unique role in disrupting high-fare legacy carriers that have used joint ventures and global alliances to dominate these routes for decades."
Most large, international airlines flying across the Atlantic do so under business partnerships with other large, global carriers. United Airlines, for instance, partners with Lufthansa. American Airlines partners with British Airways and Delta Air Lines has a deal with Air France and Virgin Atlantic.
JetBlue itself has a tight partnership in New York and Boston with American, under which they coordinate schedules and share revenue. The US Department of Justice is now suing to force JetBlue and American to unwind that deal on anti-competitive grounds.
JetBlue calls Paris the "largest European destination" it does not serve. Other carriers flying between New York-area airports and Paris include Air France, Delta, United, American and all-business class carrier La Compagnie. Delta and Air France fly from Boston to Paris, according to Cirium data.
JetBlue outfits A321LRs with 138 seats, including 114 in economy and 24 in a first class it calls "Mint". The carrier has five A321LRs in service. It holds orders for another six A321LRs, and for 14 of the in-development A321XLR, which Airbus says will have 4,700nm of range.