New York-based low-cost carrier JetBlue Airways will leave Long Beach airport in October, shifting flights to Los Angeles International airport, which will become JetBlue's primary West Coast operations centre.
The airline says on 9 July that its service, crew and maintenance bases will move to the larger airport about 15nm (27km) to the northwest in October as it expands its flight offerings from that location and consolidates its Los Angeles-area transcontinental and West Coast route networks.
JetBlue's last day operating at Long Beach will be 6 October.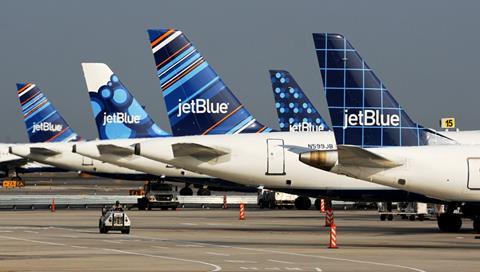 "[Los Angeles] is one of JetBlue's most-successful markets and offers the valuable opportunity to grow significantly both domestically and internationally while introducing our low fares on more routes," says Scott Laurence, head of revenue and planning at JetBlue.
The airline adds that it plans to launch a strategic expansion over the next five years at Los Angeles, growing from 30 flights daily currently to about 70 flights per day by 2025. The carrier says this expansion will include flights to several markets it has not previously served nonstop from Los Angeles. Those cities include Austin, Reno, San Francisco, Salt Lake City, Bozeman (Montana), Seattle and Las Vegas.
JetBlue adds that it currently has 150 crew members based at Los Angeles, and expects that number to expand to 700 when the airline moves its base there on 7 October.
JetBlue has been steadily reducing its offering from Long Beach and prior to the coronavirus pandemic was down to just 13 nonstop destinations from the smaller Los Angeles-area field, according to Cirium networks data. With the move, the airline will begin to go head-to-head with four major carriers who operate West Coast hubs at Los Angeles: Alaska Airlines, American Airlines, Delta Air Lindes and United Airlines.
JetBlue serves two other Los Angeles-area airports – Hollywood Burbank and Ontario International – with transcontinental service to New York and Boston.