JetBlue Airways will make "schedule adjustments" to its planned transatlantic flights as the continued rapid spread of the highly-contagious "Delta" variant of the coronavirus, and ongoing travel restrictions, threaten to stifle the rebound of international air travel.
Still, the New York-based airline remains committed to kicking off its transatlantic service as planned, with flights between John F Kennedy International airport and London-Heathrow airport beginning on 11 August, executives say during JetBlue's second-quarter earnings call on 27 July.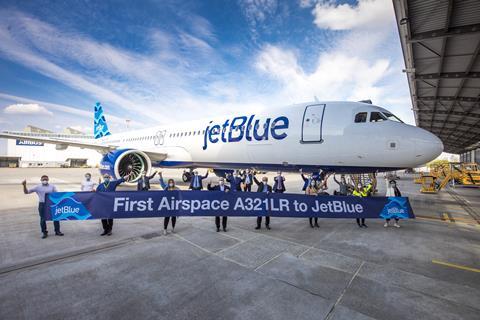 "We are disappointed with the continued restrictions on travel between the US and the UK, and urge regulators to safely re-open borders for travel," says chief executive Robin Hayes. He has been "very frustrated that the [travel] corridor [between the US and UK] hasn't opened".
"We are planning schedule adjustments for this fall to match the current demand environment and, once a path to the border reopening is clear, we expect demand to bounce back quickly just as it has in the rest of our network."
JetBlue "will fly our schedule every day per plan initially [and] we are looking at September… to bring down some of the flying, and then we will continue to review it on a month-by-month basis," Hayes says.
In May, the airline said it would begin flying between New York's John F Kennedy and London Heathrow, and the airline has completed three round-trip proving runs in recent weeks. JFK to London-Gatwick is due to begin on 29 September, followed by nonstop flights between Boston and London in "summer 2022".
Hayes' comments came one day after the US administration of president Joe Biden said it would maintain an entry ban for travellers from Europe, the UK, China, Brazil and other countries. Such restrictions have been in place for almost 18 months. There is no indication when this ban will end.
JetBlue plans to fly the transatlantic routes using A321LRs equipped with 138 seats, including 114 in economy and 24 in JetBlue's "Mint" lie-flat first-class product.
In April, the airline took delivery of its first aircraft of the type, which has a range of 4,000nm (7,410km), and it received two more during the second quarter. More will follow in 2022, the carrier says. JetBlue also holds orders for 4,700nm-range A321XLRs.
American Airlines, British Airways, Delta Air Lines and Virgin Atlantic Airways currently fly the JFK-to-London Heathrow route, according to Cirium schedules data. No airlines currently fly from JFK to Gatwick, though British Airways and Norwegian operated that route in 2020.
American, British Airways and Virgin fly from Boston to London Heathrow, Cirium shows.