Jetstar and Jetstar Asia have signed codesharing agreements with Air France and KLM for flight connections in Singapore and Denpasar. .
The deal allows KLM to place its code on Jetstar-operated flights from Denpasar to four Australian destinations, the carrier says.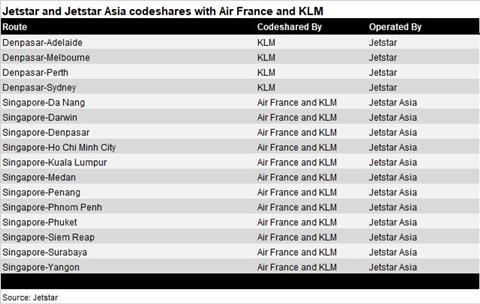 Meanwhile, Air France and KLM will codeshare Jetstar Asia-operated flights from Singapore to 12 Asia-Pacific destinations.
"It is always great to find new opportunities to be able to offer our incredible network to more customers who are looking to explore Southeast Asia and Australia," says Jetstar Asia's chief executive Bara Pasupathi.
"Changi's world-class facilitates make Singapore the leading choice for customers connecting between Europe and Southeast Asia and Australia".