Kenya Airways and its low-cost unit Jambo Jet will today suspend a string of domestic services following moves in the country to counter concerns over a third wave of the coronavirus.
The move to suspend domestic flights follows a presidential order on 26 March to suspend all travel within five counties in the country, encompassing the two carriers' primary hub of Nairobi, from which they operate the vast majority of domestic flights.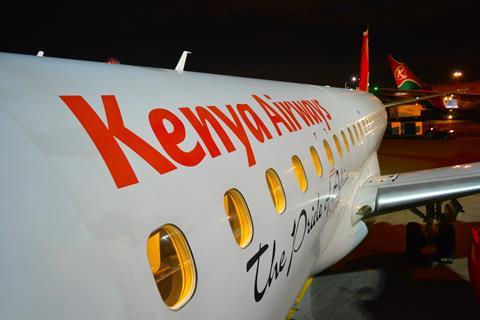 Kenya Airways is cancelling its Nairobi services to Mombasa and Kisamu, while Jambo Jet will suspend flights from Nairobi to Mombasa, Kisumu, Eldoret, Malindi and Diani from today.
While Kenya Airways has initially cancelled its flights for two weeks, the presidential decree calls for the cessation of all travel into the effected regions until otherwise notified.
International services into Kenya continue, though with the continued requirement of passengers being able to evidence a negative Covid test 96 hours before departure.
Kenya had reopened for domestic flights in mid-July and for international arrivals last August following an initial flight suspension in response to the pandemic.
The return of domestic travel restrictions marks a further blow for the airline, having just disclosed the largest loss in its history. Kenyan moves to renationalise the carrier under a new holding group structure have faltered since being introduced last summer are still to complete the legislative process, while Kenya Airways' chief executive Allan Kilavuka was quoted in local media as saying the airline requires a $500 million bailout from the government to survive.