Dutch carrier KLM now expects to operate around 40% of its pre-crisis levels of capacity on European routes over the coming months as a result of fresh travel restrictions imposed to counter the coronavirus.
It expects to serve around 90-95% of the European destinations it flew to pre-crisis. The majority of the suspended destinations are in the UK, where fresh lockdown restrictions have been imposed. It means KLM now expects to operate 40% rather than 50% of pre-crisis European capacity in the coming months.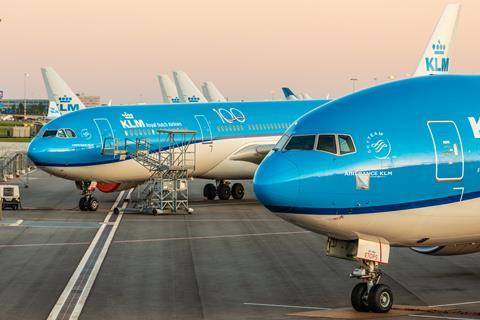 It also expects to operate between 50% and 60% of its pre-crisis passenger flights on intercontinental routes – excluding cargo-only services.
Since the resumption of international passenger services following the initial round of lockdowns earlier this year, the SkyTeam carrier has focused on restoring as many destinations in its network as possible – albeit with lower frequency and smaller aircraft.
"This means our customers have the widest possible choice of destinations, enabling us to maintain our network through our Amsterdam hub," the airline notes.
"This strategy has proved successful in recent months and has ensured that we did not have to trim our network as rigorously as some other airlines. August and September showed clear signs of recovery.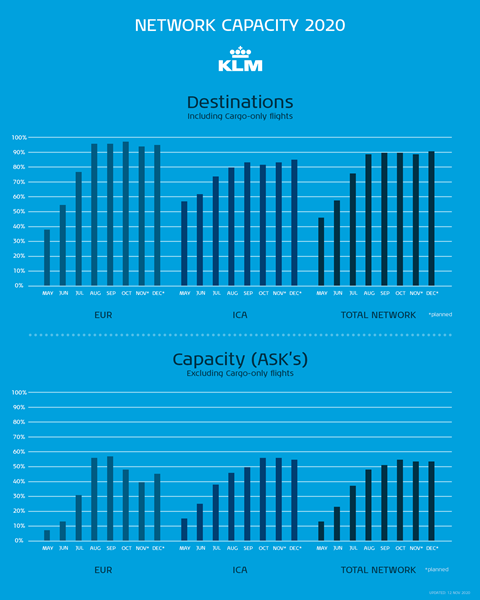 "Regrettably, the second wave has led to new restrictions throughout Europe, not just in the Netherlands. Capacity will therefore be trimmed again into the coming period," it notes.
The Dutch carrier is, however, adding new destinations to its network. It will add a twice-weekly connection to Zanzibar in Tanzania to its existing Dar es Salaam service from 10 December, and will operate four weekly flights to Riyadh in Saudi Arabia from 4 January.