Dutch carrier KLM plans to operate 95% of its European network and serve 80% of intercontinental destinations by August.
The SkyTeam member says it is "gradually and carefully" restarting operations after flights came to a "virtual standstill" in April.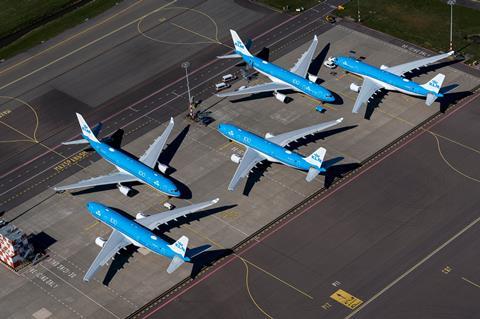 In July, KLM will resume 80% of its European network and return to 75% of long-haul destinations, albeit with fewer frequencies than before the Covid-19 pandemic.
"KLM has opted to restart as many destinations as possible first, in order to offer customers a wide choice and then to increase frequencies and capacity," states the airline.
While half of the carrier's long-haul flights are currently cargo-only, KLM says that as international travel restrictions are relaxed, "an increasing number of intercontinental flights will be allowed to carry passengers again from July onwards".
KLM plans to operate 11,000 European and 2,100 long-haul flights in August, just over half the capacity it deployed in August 2019.
"The recovery has therefore started cautiously, but the level of 2019 is far from being approached," says the carrier.