A new arrivals and departures hall at LaGuardia airport's Central Terminal opened on 10 June, marking another stage in the completion of the terminal's overhaul.
The New York-area airport's hall, due to open to the public on 13 June, will serve as American Airlines' primary arrival and departure facility at the airport, housing ticketing, check-in, security screening and baggage claim. United Airlines, Southwest Airlines and Air Canada will also use the four-story, 79,000sq m (850,000sq ft) facility.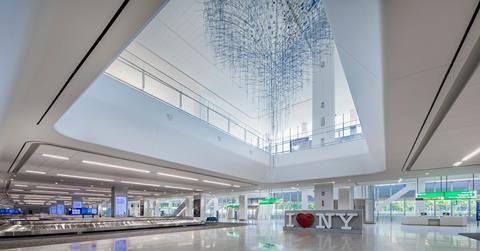 At the ceremonial opening on 10 June, New York governor Andrew Cuomo lauded the project as "the first new airport built in 25 years in America".
Terminal B is in the process of a complete $8.2 billion overhaul. The first portion to be constructed, the eastern concourse, was opened in December 2018. The western concourse is slated to open in 2021.
According to the airport's operator, the Port Authority of New York and New Jersey, in 2019 more than 31 million passengers passed through the smallest of the three New York-area commercial airports. It is a hub for American and Atlanta-based Delta Air Lines.