LATAM Airlines has decreased its operation-wide capacity in April by 95%, citing border closures and lower demand because of the coronavirus pandemic.
On 16 March, the Chile-based airline had said it was cutting its scheduled capacity by 70%.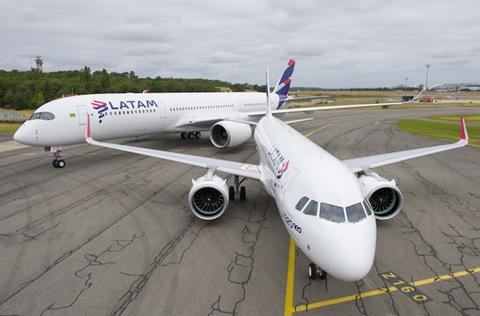 LATAM will continue flights to 39 destinations in Brazil, although with reduced frequencies, the airline states 2 April. Brazilian flights will connect to LATAM's Sao Paulo (Guarulhos and Congonhas), Brasilia and Fortaleza hubs.
The airline will maintain reduced frequencies to 13 of its 16 Chilean destinations in April, and has temporarily suspended flights to Rapa Nui, Castro and Osorno.
Government restrictions will continue to force LATAM to suspend the operations of its affiliates in Peru, Argentina, Colombia and Ecuador.
LATAM will maintain limited frequencies of international flights from Santiago to Sao Paulo, Santiago to Miami and Los Angeles, and Sao Paulo to Miami and New York.
Separately, Roberto Alvo has succeeded Enrique Cueto as LATAM's chief executive. Cueto has joined the airline's board of directors. LATAM had announced the management transition in September 2019