UK regional carrier Loganair has reiterated its call for slots at London Heathrow Airport to be made permanently available for domestic connectivity after announcing it will expand its fledgling operation at the congested hub by leasing more slots.
Loganair began flying the Heathrow-Isle of Man-Heathrow route in late 2021, using slots temporarily vacated at the London airport during the pandemic, later securing those slots permanently.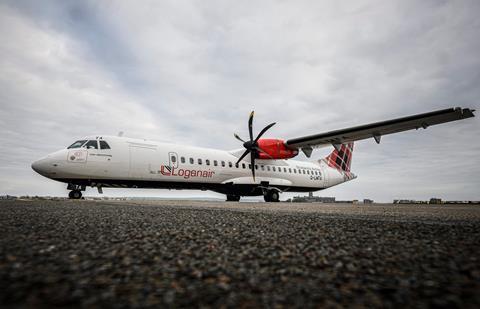 It has now secured access to 30 additional weekly slot-pairs at Heathrow under a lease arrangement with British Airways, which takes effect in May. It says the slots will enable it to "develop regional connectivity from UK domestic destinations" to Heathrow. The new slots will enable Loganair to operate up to six daily weekday services. Route details will be announced "in the coming days", it says.
Loganair chief executive Jonathan Hinkles says: "We're delighted to be growing our operations at Heathrow. Having taken these important first steps ourselves to provide new connectivity to and from the UK regions under this arrangement, it's now essential for the UK government to initiate the process needed to reform competition remedies to provide access to Heathrow for the UK regions."
Hinkles cites the changes to Heathrow's tariffs for regional aircraft operating on UK domestic routes, which took effect this year, as critical to the viability of Loganair's plans at the airport.