Lufthansa is calling for a temporary agreement between Germany and India after it was forced to cancel flights to the country until 20 October amid a row over access under the current travel bubble arrangements.
Germany was one of several countries India negotiated a "travel bubble" agreement with in the summer to enable the restoration of limited services between the two countries as coronavirus-related travel restrictions began to be eased.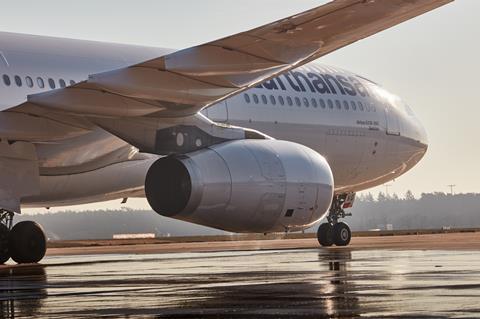 But Lufthansa says it has been forced to cancel all its planned flights between Germany and India from 30 September until 20 October after its application was "unexpectedly blocked" by the Indian authorities.
The carrier says it had applied for the continuation of special flights it was granted to operate until the end of September, noting that India has so far "not accepted the invitation by the German government to discuss details regarding a temporary travel agreement between both countries".
Lufthansa had been planning to restore Chennai flights in October in addition to the Bangalore, Delhi and Mumbai flights it has operated since June.
In a statement India's transport ministry says there are restrictions in place on Indian nationals wishing to travel to Germany "which was putting Indian carriers at a significant disadvantage resulting in inequitable distribution of traffic in favour of Lufthansa".
It adds: "As against Indian carriers operating three to four flights a week, Lufthansa operated 20 flights a week. In spite of this disparity, we offered to clear seven flights a week to Lufthansa, which was not accepted by them. Negotiations continue."
India is on the German foreign office list of countries with an increased risk of infection of coronavirus and visitors from which are subject to a mandatory Covid-19 test.
Cirium schedules data shows Air India operating 22 flights during September to Frankfurt, predominantly from Delhi, while Lufthansa is operating 21 flights across the month on each of its Frankfurt routes to Bangalore, Delhi and Mumbai, as well as Munich to Delhi. The two carriers are the partners in the Star Alliance.
Prior to the pandemic, January schedules show Lufthansa flew daily services from Frankfurt to Bangalore, Chennai, Delhi and Mumbai, and from Munich to Delhi and Mumbai. Air India was serving Frankfurt daily from Delhi and four times a week from Mumbai.
"Lufthansa sincerely urges the Indian authorities to work together with the German government in order to establish a temporary travel agreement between both countries," the German carrier says. "Such an agreement is necessary to address the urgent need of tens of thousands of Indians and foreign nationals for travel to and from India and would also help balance the interests of both countries' airlines."