Lufthansa Cargo plans to operate an "extensive and dense" freighter network during the winter season as air freight demand has held up amid the pandemic.
Asia is the region most frequently served by the airline's main-deck freighters. Lufthansa Cargo says it will operate an average 35 weekly flights to the region from its Frankfurt base, with Shanghai, Seoul, Tokyo and Hong Kong as "focus" cities in the network.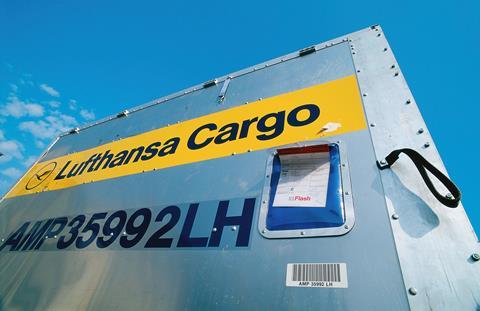 Beijing, Chengdu, Mumbai, Hyderabad, Chennai, Bengaluru, Osaka, Bangkok, Ho Chi Minh City, and Tashkent will additionally be served under the airline's schedule.
The second-most important region for the carrier will be North America. Chicago, New York JFK, Los Angeles and Atlanta will be the most frequently served cities. Houston, Seattle, Dallas, Mexico City, Guadalajara and Toronto will also feature in the network.
Lufthansa Cargo notes that some transatlantic services will be routed via Stavanger in Norway.
To South America, the airline says it will operate four weekly, westbound services landing in Brazilian cities Campinas, Curitiba and Recife, Argentinian capital Buenos Aires, and Montevideo in Uruguay.
Four weekly round-trips to Cairo and Tel Aviv are also planned.
Chief commercial officer Dorothea von Boxberg states that Lufthansa Cargo's freighter operation "perfectly complements" belly-freight operations on some of the German airline group's passenger aircraft.
Lufthansa, Austrian Airlines, Brussels Airlines, Eurowings and SunExpress, the leisure carrier jointly owned with Turkish Airlines, together operate more than 3,000 weekly flights to around 150 destinations with belly-freight capacity available to Lufthansa Cargo, it notes. Group carrier Swiss handles cargo on its passenger aircraft internally.
"In order to optimally meet demand, we will continue to manage our freighters flexibly in the coming months," von Boxberg states.
Throughout the pandemic, there has been strong demand for air freight services as belly-freight capacity has been curtailed by the decline in travel demand, especially for long-haul flights. Pre-pandemic, around half of all air cargo was carried on passenger aircraft.
Several airlines, including Lufthansa, Austrian and Swiss, have therefore removed seats from passenger aircraft to use them for pure cargo flights.
Cirium fleets data shows that all of Lufthansa Cargo's nine Boeing 777Fs and six MD-11Fs are in service.
Flight-tracking data hows that at 20 October, the seven-day average for daily flight hours of Lufthansa Cargo's freighter fleet was a sixth higher than a year before, and 9.8% higher than a week before.
Meanwhile, the seven-day daily flight-hour average of Lufthansa's passenger fleet was, at 20 October, 76% below the level a year ago.