Lufthansa Group's flagship carrier Lufthansa has reinstated flights between Frankfurt International airport and New York City's John F Kennedy International airport after four months of suspension due to the coronavirus global health emergency.
The Frankfurt, Germany-based airline says on 27 July it will fly an Airbus A330-300 five times weekly between its largest hub and New York City, beginning the same day. At the end of August, it will operate daily flights on the route for the remainder of the summer schedule, which ends on 24 October.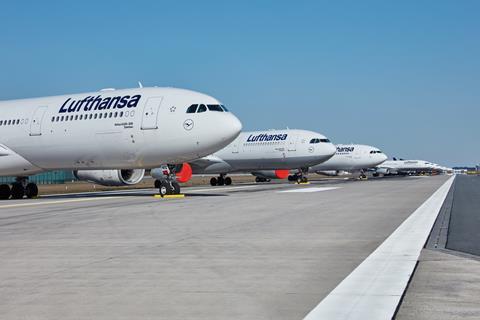 During the crisis, Lufthansa maintained regular service on the Frankfurt-to-Newark route, but had suspended operations at John F Kennedy. Newark Liberty International airport also serves the New York City metropolitan area.
It sister carriers Swiss International Air Lines and Austrian Airlines had also kept operating flights between their home bases Zurich and Vienna, respectively, and the New York City region during the crisis. Brussels-based Brussels Airlines plans to resume flights to John F Kennedy airport at the end of the summer, Lufthansa Group says.
"As the world gradually begins to open up, the desire to travel has increased and there is an ever-growing necessity to see family and friends, as well as conduct important business trips. Lufthansa is continually evaluating additional connections globally," says Larry Ryan, Lufthansa Group's senior director of sales for the USA.
Lufthansa Group adds it is ramping up services between Europe and the USA, even though travel restrictions between the two continents, designed to tamp down spread of the highly contagious virus, are still in place. The USA remains closed to most European tourists, while US travellers to Europe are also subject to strict rules, including mandatory quarantines.
The airline also says, however, that it has begun to offer on-site coronavirus testing at Frankfurt airport for travellers arriving from at-risk countries like the United States.
"The test, certified by the relevant health authorities in Germany, only requires a throat swab and provides results within four to five hours," the airline says. If the result of the test – which passengers must pay for – is negative, the 14-day quarantine requirement for entry into the European Union will be waived.
Lufthansa Group says that by the end of October it will be operating more than 70% of its originally planned long-haul routes, and 90% of all short- and medium-haul flights. It will serve 130 destinations worldwide with more than 2,000 flights weekly during summer.