Mexico's VivaAerobus says it will become the first airline in the Americas to return to 100% of pre-coronavirus capacity in November.
In a note on its website on 5 November, the Monterrey-based low-cost-carrier says that its November 2020 capacity will equal that of the same month a year ago, after the global pandemic decimated the air transport industry earlier this year.
The airline says October capacity was at almost 94%, and that it transported 885,000 passengers during the month. That's up 21% from September and represents a load factor of 85%.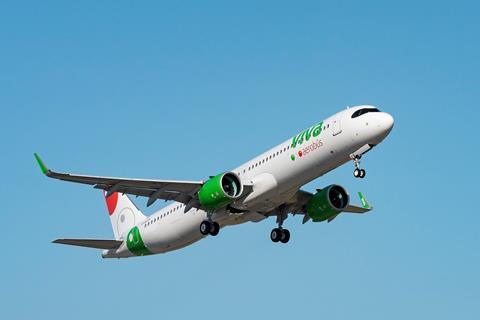 "In November [VivaAerobus was] the first airline in the entire American continent to have reactivated its operational capacity to 100% compared to November 2019," the airline says on its website.
The airline plans to operate 109 routes - 96 domestic and 13 international during November. That's up from 97 routes - 86 domestic and 11 international - during October.
VivaAerobus operates an all-Airbus A320 family fleet, with 41 of the European narrowbodies in service and none in storage, according to Cirium fleets data. It has 42 A321neo aircraft on order. Prior to the pandemic it flew to 47 destinations across Mexico, the USA and Cuba.
Last week, Mexican media reported that low-cost competitor Interjet was on the verge of collapse after the airline cancelled flights and a union representing its workers called for a strike to protest unpaid wages.