Having built their networks around the transfer of long-haul passenger through their hubs, with limited short-haul networks to fall back upon, the Middle East's largest carriers are perhaps uniquely vulnerable to the coronavirus crisis.
Although visiting-friends-and-relatives and leisure travel have proven the most resilient forms of demand, there is little to indicate that passengers feel comfortable returning to long-haul trips.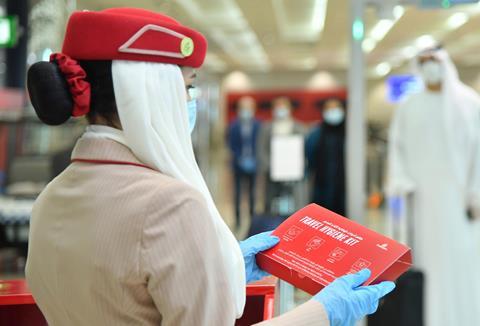 The ultimate safety net for some carriers – a large domestic market – does not apply in the Middle East's fractured network of smaller states. And in contrast to almost all other airlines, the region's most prominent players – Emirates, Etihad and Qatar Airways – have far more widebody than narrowbody aircraft, a mix that is unsuited to today's low load factors and soft demand.
In addition, the region's big stimulators of demand, the annual Haji pilgrimage to Saudi Arabia and Dubai's World Expo 2020, have been reduced to a trickle or postponed until next year, respectively, by the virus.
"The global network carriers, Emirates and Qatar Airways, can try as hard as they like to drive [origin and destination] traffic into their capitals, but that's going to be really tough," says Ascend by Cirium senior consultant Max Kingsley-Jones. "The speed at which any vaccine can be rolled out globally is going to be key for them."
IATA certainly sees worsening prospects for the regions carriers. On 21 October it downgraded its assessment of 2020 traffic levels in the region to just 30% of last year's, citing a "weaker-than-expected recovery".
"The slower-than-anticipated return to the skies for travellers in the Middle East is more bad news for the region's aviation industry," states Muhammad Albakri, IATA's regional vice-president for Africa and the Middle East. "A few months ago, we thought that a fall in passenger numbers to 45% of 2019 levels was as bad as it could get. But the second wave [of Covid-19], combined with continuing travel restrictions and quarantines, will result in passenger numbers in the region being less than a third of what we had in 2019."
Cirum data underlines the issues facing the region's airlines.
Although the number of services operated in the region has continued to increase from its April and May lows, it remains severely depressed. On 16 November just 1,371 flights took place in the region, as measured by a seven-day average, against 3,290 last year.
The activity of the region's most prominent carriers, Emirates, Etihad, and Qatar, has bounced back slightly slower, and is now starting to plateau as the virus worsens around the world, including in the region.
Combined, the carriers operated just 491 flights on 16 November, as a seven-day average, a number that has been static for around a month-and-a-half. In the same period of last year, they were operating around 1,245 daily flights.
Activity at the region's busiest airport by passenger numbers, Dubai International, exemplifies how the local recovery is running out of steam. From large weekly increases in the number of departing flight-hours through the summer and early Autumn, the rate of increase has slowed notably into October and November, and is now even starting to decline.
IATA projects that traffic numbers in the region will next year rise to just 45% of 2019's levels, or around 90 million travellers, and that a full recovery to pre-crisis levels will not occur until late 2024.
There are indications that the crisis could have even longer-lasting implications.
Kingsley-Jones highlights that as part of its forecasts for new aircraft requirements over the next 20 years, Boeing recently marked down its expectations for the Middle East more than any market bar Latin America and Africa.
Whereas last year the aircraft manufacturer expected the region to require 3,130 new aircraft over the next 20 years, this October it reduced that to 2,945 jets, a decline of 6%.
The fall in widebody requirements is particularly pronounced. In 2019, Boeing estimated the region's carriers would have a widebody fleet of 1,860 aircraft by 2038; it now projects the need for just 1,580 jets – a fall of 15%.
Globally, Boeing downgraded widebody delivery forecasts by a tenth, saying this was because of the pandemic's impact on long-haul travel.
"Boeing expects the sixth-freedom network model that is central to the Middle East carriers' strategy will suffer a higher proportion of lost growth in the near term due to the impact of the crisis on long-haul dynamics," says Kingsley-Jones.
A further complication for the Middle East's largest carriers is that because they serve a wide range of countries, with passengers coming from all regions of the world into their hubs, the speed and roll-out of a vaccine has greater implications than for carriers with dedicated home markets where the inoculation challenge is more contained.
EMIRATES
On 12 November, Emirates announced its first half-year loss for the six months from the start of April, posting negative $3.8 billion, against a $320 million profit in the same period last year. This followed a $2 billion state bailout in August: the carrier is seen as essential to the economic model of its host city of Dubai. Citing "unprecedented flight and travel restrictions worldwide", the carrier suspended passenger services for eight weeks in April-May. Capacity was cut 67% and passenger traffic fell 96%.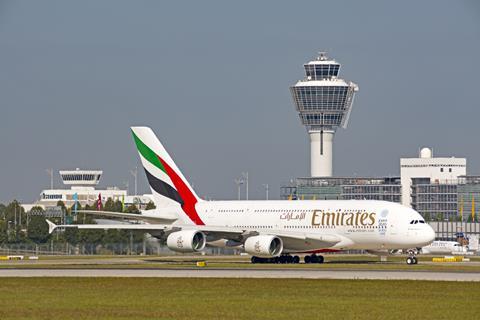 However, the carrier has made efforts to restore as much of its capacity throughout the summer and autumn, and was operating to 104 cities by the end of September. Cargo operations have helped, with volumes rising by 65% on last year, aided by the conversion of 10 Boeing 777-300s to carrying freight on the main deck.
Cirium data shows that the carrier has continued to increase its capacity, its seven-day average reaching 172 daily flights on 16 November, although that compares with 509 for the same date last year.
It had around 60% fewer aircraft tracked in the air than a year earlier, although it is continuing to add aircraft against a week earlier, showing its expansion is continuing despite a resurgence in Covid-19 cases in the UAE and much of the world.
Emirates has tried to differentiate itself by being the first carrier to offer Covid insurance, covering medical expenses up to $176,000 and quarantine reimbursements of $100 per day, for free, should passengers be diagnosed with Covid-19 from their travel. It has also invested in technology enabling passengers to pass through their hub with little or no in-person contact with staff, in a bid to minimise the spread of infection, using a combination of facial and iris-scanning technology.
But it admits that these measures will not enable it to restore traffic to anything close to its pre-pandemic scale.
Speaking to FlightGlobal in September, Emirates Airline president Tim Clark explained that if a vaccine was not produced – two have since proven to be effective – "what we see today is what we see going forward", referencing the inability for the aviation industry to operate normally.
"Sorry, it's as brutal as that," said Clark. "You can socially space on aeroplanes but that's an economic catastrophe. Airline business models are not built on 50% seat factors, for no segment of the business."
He added: "This vaccine has to be found, we cannot continue this way. People will still travel [if there is no vaccine], because they'll have to, not because they want to, and that virtually eliminates 90% of your market." The vaccine would need to be distributed to poorer countries in "equal proportions" to the developed world, Clark stressed.
His words underline that without a widespread roll-out of a Covid vaccine, the measures that Emirates and other carriers have taken will have little impact on traveller demand.
QATAR AIRWAYS
Qatar Airways has been bullish through the crisis, never dropping below 30 routes and restoring its network to over 100 cities by early November. "We are delighted to continue rebuilding our network, resuming routes and adding new destinations," said group chief executive Akbar Al Baker. "We have made it our priority to not only restart most of our existing destinations as soon as possible but also to launch new routes." The airline plans to increase its network to more than 125 destinations by the end of March 2021.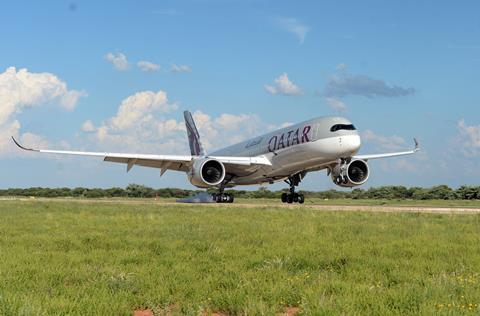 Given this ambition, the risk is that resurgent cases of coronavirus and the associated travel shutdowns will derail its recovery and hobble its business model, which, like with Emirates, is based around transferring passengers through in central hub.
"Already there are calls to limit the ability of international airlines to freely carry passengers between destinations," Al Baker complained in October. He argued that the concept of "countries creating bubbles" – where air travel is opened up between two nations through intergovernmental agreements – "is just another way of protecting home carriers at the cost of international free travel and open skies". These restrictions, he contends, pose a greater threat to the carrier's recovery than a lack of consumer confidence.
Cirium data shows that Qatar Airways steadily increased its capacity from the start of June until late October, since when it has pared back some services. It operated a seven-day average of 244 flights as of 16 November, against 596 a year earlier.
With demand likely to be weak for the foreseeable future, Al Baker add that it is unlikely his airline's 10 Airbus A380s will be returned to service for the next "couple of years", given the impact that placing such a large amount of seats would have on pricing.
In September ,the carrier received $2 billion of state funding after incurring heavy losses in the fiscal year ended 31 March, with its finances also straining from an air blockade by several Arab states that began in June 2017.
ETIHAD AIRWAYS
Etihad, the smallest of the Gulf's three global carriers, has looked to significantly reshape itself through the crisis as it adapts to being a "mid-sized" carrier. Group chief executive Tony Douglas highlighted earlier in November that the carrier "can no longer continue to incrementally adapt to a marketplace that we believe has changed for the foreseeable future".
As part of this, the carrier has reshaped its management structure and formed a joint venture with budget operator Air Arabia, with an eye on regional routes out of Abu Dhabi.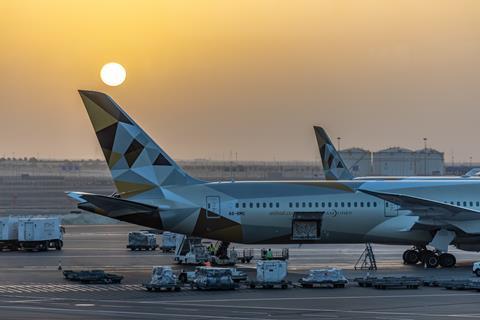 "The restructuring sees the airline continuing its transformation into a mid-sized, full-service carrier concentrating on its fleet of widebody aircraft, with a leaner, flatter and scaleable organisational structure that supports organic growth as the world returns to flying," it stated.
This calls into question the future of the carrier's narrowbody fleet, which consists of 30 Airbus A321s plus 26 on order. Also surplus to requirements are the carrier's 10 Airbus A380s, with Etihad telling Cirium that it will "continue to rely of the efficiencies of our twin engine widebody aircraft". It adds: "During this period, Etihad's 10 A380s will remain grounded, until demand grows and there is sufficient appetite to reassess their viability."
Cirium's data shows that of the three carriers, Etihad has restored the least of its pre-pandemic capacity. On 16 November it flew a seven day average of just 76 flights, against 239 last year, and just 35 of its aircraft were tracked in flight – compared with over 90 in 2019.
The data underlines the carrier's priority is conserving cash and controlling costs, instead of tempting passengers back into the sky and building market share.
Covid-19 hit Etihad at a sensitive time for the carrier. A restructuring and cost-cutting plan meant that in the period leading up to March it had enjoyed its "best monthly results to date", with its core operating result had improved by 34% in the first three months.
This analysis is written by Jonathan Robins, part of Cirium's London-based reporting team