MAG, the owner of London Stansted and Manchester airports, has become the latest UK airport operator to open talks with unions over cuts amid the continued slump in air traffic as a result of the coronavirus crisis.
The group, which also operates East Midlands airport, says almost 900 jobs are at risk across the three sites following the ending of the UK government's job support scheme and with the continued bleak outlook for air travel.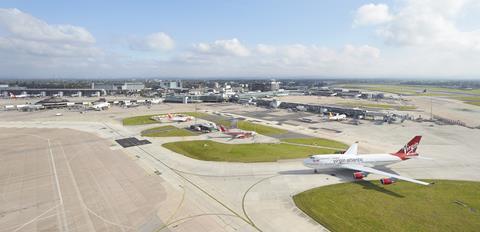 Hopes for an early implementation of a testing regime to help counter the need for current quarantine measures were today dealt a blow as the UK government instead opted to create a taskforce to further study such a move.
MAG handled 2.8 million passengers across its three airports in the five months between April and August this year. That represents a 91% fall on the 30.3 million passengers handled over the same period in 2019. It says monthly demand remains 75% below normal levels.
"Since the start of the pandemic, MAG has taken steps to reduce its cost base, including asking every employee to take a 10% pay cut for a year and pausing capital investment and non-essential expenditure. MAG has already reduced the size of its management team, and worked closely with its trade unions throughout the period in order to protect as many jobs as possible," the airport operator says.
The group has utilised the UK Government's job retention scheme, but from November that is replaced by a new programme offering lower levels of financial support.
MAG chief executive Charlie Cornish says: "By now, we would have hoped to see a strong and sustained recovery in demand. Unfortunately, the resurgence of the virus across Europe and the reintroduction of travel restrictions have meant this has not happened.
"With uncertainty about when a vaccine will be widely available, we need to be realistic about when demand is likely to recover.
"The end of the job retention scheme means that we have to consider the number of roles that we can sustain at our airports," he adds.
The operator says its proposals could mean the loss of 465 roles at Manchester, 376 roles at London Stansted and 51 roles at East Midlands, along with adjustments to roles, roster patterns and other employment measures. It will now begin consultations with unions and and staff across the three UK facilities.
Manchester and Stansted were the third and fourth largest airports in the UK in 2019, respectively handling 29 million and 28 million passengers.
The UK's two biggest airports, London Heathrow and Gatwick, have both already initiated talks with unions on cost-saving measures as the crisis has continued.
Interested parties across the UK air travel sector have been calling for the implementation of a testing regime at airports to help mitigate the need for the current 14-day quarantine requirements in place for all visitors aside from those coming from countries on the goverment's travel corridors list.
UK transport secretary Grant Shapps today announced the creation of a Global Travel Taskforce to further evaluate the practicalities of testing international arrivals to reduce the self-isolation requirement.
While a move towards testing, it dashed industry hopes of more immediate action. The sector has pinned its hopes on such a system to help rebuild air travel demand.
Dale Keller, chief executive of BAR UK – an association representing UK scheduled carriers – says: "This far into the crisis airlines expected more detail than an announcement of a new taskforce. The industry has been continuously engaged with the government, including in the Expert Steering Group formed back in May.
"A huge amount of international experience and proposals have been input so far, including the benefits of pre-departure testing, and we believe that a scheme could be implemented very quickly in a matter of weeks.
"Every day that overseas markets remain closed is costing the UK heavily in lost jobs, collapsing trade and negative social impacts, and we urge the UK Government to bring forward a passenger testing regime with utmost urgency as a national priority."