Scandinavian low-cost start-up airline Norse Atlantic Airways has launched service between Fort Lauderdale-Hollywood International airport and Oslo, marking the return of a direct route between the airport in South Florida and Europe.
"Norse Atlantic Airways has now entered a new chapter, we are delivering on our promise to offer affordable value and a quality travelling experience to all," Norse chief executive Bjorn Tore Larsen says on 20 June.
"The combination of affordable transatlantic flights offered by Norse Atlantic Airways and the return of transatlantic service to and from FLL means that passengers now have the ability to explore further for less and enjoy the convenience and choice of an efficient, quick and modern link between the United States and Norway," he adds.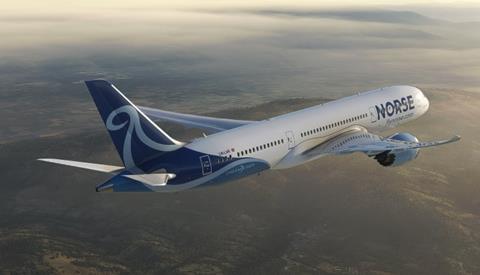 The first flight, on 20 June, was operated by a Boeing 787 Dreamliner.
Norse plans to operate flights between Oslo and Fort Lauderdale three times weekly. The carrier has said it also plans to open a cabin-crew base in Fort Lauderdale.
Most transatlantic flights between Europe and southern Florida, a popular vacation destination for European tourists, arrive at and depart from Miami International airport, 27 miles (43km) to the south.
Norse Atlantic began its transatlantic service on 14 June with an inaugural flight from Oslo to New York's John F Kennedy airport. It plans to launch service between Oslo and Orlando on 5 July. Earlier this month, the carrier said it will start daily service from Berlin to New York from 17 August, and thrice-weekly service from Berlin to Los Angeles from 19 August.
Norse also plans to launch flights between the UK and USA, with a London-New York route set to commence on 12 August.
The airline was founded in March 2021, shortly after budget carrier Norwegian – struggling to emerge from a restructuring process – opted to ditch its long-haul, low-cost division, which used a fleet of 787s.