US start-up carrier Northern Pacific Airways appears set to launch its first route between Ontario International airport in the Los Angeles metropolitan area and Las Vegas.
According to Cirium networks data, the currently-scheduled once-weekly flight in each direction will begin operating on 2 June, and is scheduled to run through the end of July.
The flight is scheduled to leave Ontario on Fridays at 14:00 local time, arriving into Las Vegas an hour later. A return flight is scheduled to leave Las Vegas at 14:00 on Sundays, beginning on 4 June, arriving into Ontario at 15:00 local time.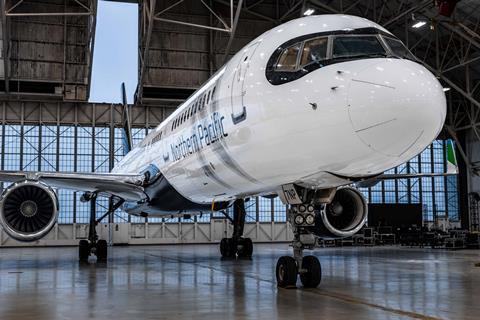 For the months of June and July, a total of 18 flights - nine in each direction - are currently scheduled to operate, the data show.
The flight times would seem to cater to customers from the Los Angeles basin looking to spend a weekend in Las Vegas - a common and popular trip. The distance between the two airports is listed as 197nm (365km). By car, and calculating for traffic, that one-way journey can take between four and five hours.
According to Cirium fleets data, Northern Pacific currently has four Boeing 757-200s in its fleet. Cirium notes that all four airframes are in storage.
The Anchorage-based carrier did not respond to multiple requests for further information on the flights or plans for future routes. The carrier's website also does not yet allow reservations, but the Ontario-Las Vegas flights are bookable on independent travel websites such as Expedia.com.
Northern Pacific had intended to launch operations in the third quarter of 2022, but last October said it expects to begin flying passengers in "spring 2023". The airline is wholly owned by Float Alaska, which acquired fellow regional carrier Ravn Alaska's operations out of bankruptcy in 2021.
The fledgling long-haul airline's business model seeks to replicate across the Pacific Ocean what Reykjavik-headquartered Icelandair does over the Atlantic. For years, the Icelandic flag carrier has used its island base about midway between North America and Europe to offer low-fare flights between the two continents, with the option for stopovers. Northern Pacific has said it intends to offer flights connecting the USA via Anchorage to cities in Korea, Japan and the USA.