Restructuring low-cost carrier Norwegian plans to "gradually increase" its flight activities in July in response to the easing of some travel restrictions in Europe.
While Norwegian's passenger numbers more than doubled in June over the previous month to 225,000, it remains a fraction of the 3.5 million the airline carried in the same month in 2019. It also remains below the more than 300,000 Norwegian transported during August, September and October last year before the second wave of coronavirus further closed markets.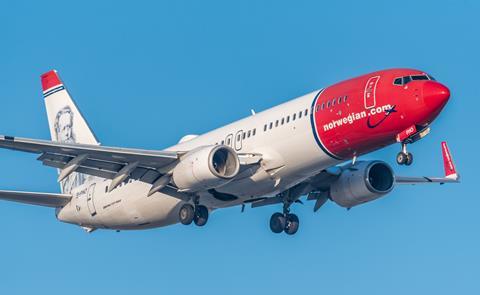 Norwegian in May emerged from bankruptcy protection with a fleet of 51 aircraft – around a third of its pre-crisis size – and having axed its long-haul business.
The airline operated 15 aircraft during June.
Norwegian chief executive Geir Karlsen, the CFO who the board appointed to lead the carrier last month, says: "June traffic results still show the impact of low demand due to reduced flying schedules and government imposed travel restrictions."
However, he adds: "We have seen a continued month-on-month increase in bookings as countries ease restrictions. As a result, we have resumed flights to a number of key European destinations, we will continue to adjust and increase our network and schedules as demand rises."