Norwegian carried just 320,000 passengers in September, less than 10% of the number it flew in the same month last year as the airline remains in hibernation mode.
The low-cost carrier had flown 3.3 million passengers in September 2019.
The reduction is even starker as measured in RPKs, as its traffic was 96% down on capacity cut 93%. The steeper fall reflects that the airline has not resumed any of its long-haul flying yet.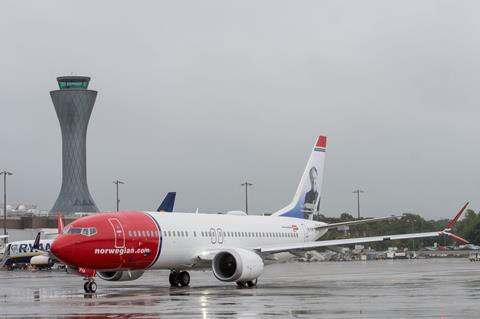 Load factor in September stood at 52.8% – down some 37 percentage points on the same month last year.
Norwegian chief executive Jacob Schram points to the impact of fresh travel restrictions among several European countries in September.
"We have seen that as soon as the authorities impose new travel restrictions demand is immediately impacted," says Schram. "We are continuously adapting our route network in line with changing demand, but the frequent changes in travel restrictions make forward planning difficult, both for us and our customers. Looking ahead, this continues to be a prolonged crisis that is far from over."
Unlike several of its European low-cost rivals, Norwegian has said it will remain in 'hibernation mode' until next spring. Schram has previously said the carrier expects to operate between 20 and 30 aircraft this winter, depending on travel restrictions.
Two other European low-cost carriers to report September traffic, Ryanair and Wizz Air, have brought far more capacity back – though both have seen that diminish amid heightened travel restrictions in Europe.
Europe's biggest low-cost carrier Ryanair flew 5.1 milliion passengers in September compared with 7 million in August. The former is 64% down on the same month in 2019.
Wizz carried almost 1.6 million passengers in September, down 59% on the same month in 2019. That compares with almost 2.4 million passengers in August, which was only 40% down on the previous year.
Embattled Norwegian has undergone major financial restructuring through the crisis in order to access vital state aid – and has said it requires further funding in 2021.