Norwegian is grounding 40% of its long-haul fleet and cancelling some 25% of its short-haul services in response to the coronavirus outbreak and the US ban on European travellers.
The Scandinavian low-cost carrier is also cutting up to 50% of its staff as it looks at "all possible measures to reduce costs".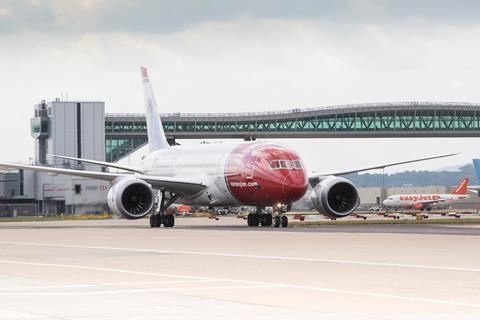 In the period 13-29 March, Norwegian is cancelling the majority of its long-haul flights to the USA from Amsterdam, Barcelona, Madrid, Oslo, Paris and Stockholm.
From 13 March to the end of May, flights from Rome to the USA are cancelled, and the same applies to US services from Amsterdam, Athens, Barcelona, Madrid, Oslo and Paris between 29 March and the end of April.
Routes from London Gatwick to the USA are unaffected. "Our goal is to reroute as many of our customers as possible through London during this difficult period," says the airline.
"This is an unprecedented situation," states chief executive Jacob Schram. "Our main priority continues to be the care and safety of our customers and colleagues. The new restrictions imposed further pressure on an already difficult situation.
"We urge international governments to act now to ensure that the aviation industry can protect jobs and continue to be a vital part of the global economic recovery."
Norwegian is also cancelling a "large share" of its domestic Norwegian flights and services within Scandinavia, such as from Oslo to Copenhagen and Stockholm. Flights to Italy will also be cancelled.
In a move which appears contradictory, "domestic and intra-Scandinavian flights will be combined to re-protect our customers", says Norwegian.
HSBC, in a note published today, sounded a warning on Norwegian's liquidity position: "We now expect Norwegian to face cash-flow challenges in the near term. Suppliers will likely take a very cautious view towards Norwegian, exacerbating cash challenges.
"The likelihood of airlines being able to raise significant amounts of new equity in the present environment does not look high."