Norwegian is to deploy a further a dozen aircraft from the start of July as it reopens short-haul European links from Scandinavia
The restructuring low-cost carrier has been operating only a network of 13 domestic routes since the pandemic hit using eight aircraft. But it now plans to expand its network to 76 routes across Europe from its Scandinavian hubs from next month.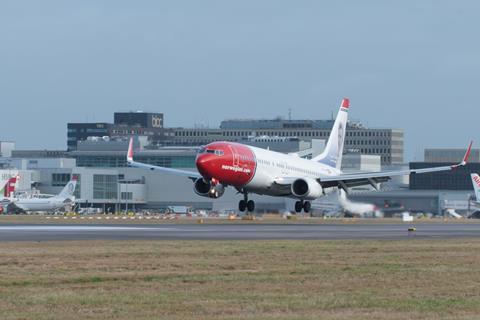 Over half the international routes will be from Oslo, while the remainder are from Copenhagen and Stockholm. The routes cover a range of European destinations including London Gatwick and Edinburgh in the UK, as well as resorts in Spain and Greece.
Norwegian chief executive Jacob Schram says: "Feedback from our customers has shown that they are keen to get back in the air and resume their travels with Norwegian beyond the current domestic services that we have been operating. Norwegian is returning to European skies with the reintroduction of more aircraft to serve our key destinations which will ensure that we remain in line with competing carriers."
European countries have been lifting internal borders to Schengen member and associated states - in line with the European Commission advice to do so by 15 June - as well as taking steps to establish criteria on opening up to non-EU states from the start of July. This has prompted European carriers to set out plans to restore parts of their short-haul networks.
Norwegian has since April only operated domestic routes in Norway, building up to eight aircraft today. Now it says 12 more aircraft will re-join the fleet to operate the wider network.
The fleet of 20 aircraft is still a small portion of the 147 aircraft Norwegian had at the end of March. Norwegian, which has pushed through a major financial restructuring to secure access to critical state aid, had in April said it expected to remain in 'hibernation phase" until the second quarter of 2021, when a gradual ramp-up will begin.
The carrier says further destinations and frequency increases will be announced in due course subject to passenger demand and government travel restrictions.