London Heathrow airport enjoyed its best month for traffic since the pandemic in March, though the 4.2 million passengers it handled is still only two-thirds of pre-Covid levels.
It does though mark a sharp jump on the 2.8 million the airport handled in February and reflects the lifting of Covid-related travel restrictions in the UK.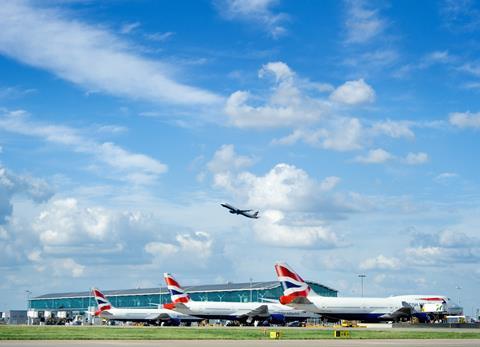 "This demand is being driven by outbound leisure at weekends and during school holidays, as Brits make the most of the freedom to travel and cash in vouchers from trips cancelled during Covid," the airport says.
However, it adds: "Inbound leisure and business travel remains weak due to high covid levels in the UK and the requirement to test before returning home."
Heathrow airport handled 6.5 million passengers in the equivalent month of 2019.
The rapid increase in UK air travel demand though has brought fresh operational challenges, as airlines and airports ramp up operations at the same time as absence rates are compounded by high Covid levels. For its part, Heathrow says it is increasing resources "as fast as possible", citing plans for 12,000 new starters across the airport.
"Heathrow is working closely with airlines and ground handlers to make sure this increase in demand can be met while keeping passengers safe," the airport says.
"Half of global markets still require Covid checks including testing, vaccination status and quarantine, which is causing particular congestion in check-in areas at peak times."
"Other airport processes are currently working to plan and Heathrow is working with [UK] Border Force to ensure sufficient levels of resource are in place to cope with the large number of passengers returning to the UK over the next couple of weeks."